The perfect team you can trust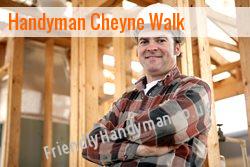 No one does a better all-around service other than our reliable and professional handyman. The solutions that we provide are simply cost-effective. That is why everything that you need is exceptionally provided only at Friendly Handyman.
Your round the clock domestic and commercial operatives
Our experience in domestic handyman services SW10 has made us the most trusted team of experts in Cheyne Walk. Whatever service you may require, we can surely help you. Just name it and we will do it for you. At a price you can afford, you no longer need to search for a much better deal.
Reasons why we excel:
Completes job effectively
Affordable rates
Always on the go
Fully insured
Quick response
Professional team of handymen
For a same day service, call us at 020-3322-6025. Our handyman will be at your place to do the jobs you require in no time.
Experts of anything under the heat of the sun
As much as possible, we carry out our works discreetly without causing you any disruption at all. With our fully licensed and insured handyman, you can always entrust your entire workplace with us.
We are the only company who can guarantee quality workmanship and a competitive price at the same time. With a large base of clients, we can prove that we have always satisfied our clients in all our undertakings.
Letting you wait for a long period of time is not our practice. We always make sure that the moment we receive your call, we will respond to you quickly. We are the very persons you can rely on most especially on your emergencies.
Services we are known for: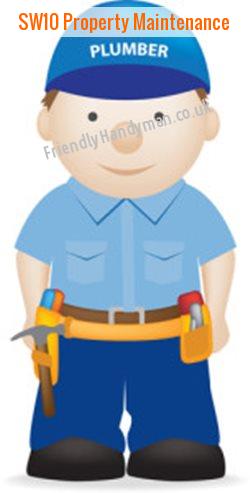 General Home Maintenance SW10
Plumbing
Painting and Wall Treatments
Remodelling of Bathrooms
Fences
Decks
Quality services at a very affordable rate
You may have a hard time dealing with your household problems. That is why we are here offering a wide range of services to make everything easy for you. We will do whatever it takes just to give you the best service there is.
We are Cheyne Walk's number one handyman company offering commercial maintenance and repair services to retail stores, office buildings and other business establishments. We pride ourselves for doing the job right even for the first time. With competitive rates, surely you would have the best value for your money.
Our handyman are fully licensed, insured and definitely fully equipped. They are well adept in handling all types of jobs that you would require whether at home or in a business establishment. Your satisfaction and convenience is our utmost concern.
Cheyne Walk Handyman Services - Call 020-3322-6025.
Reliable Handyman East London, Boston Manor TW8 odd-job man Smithfield EC1 Jack of all trades Friendly Handyman in South Kensington Local Handyman Rotherhithe renovation experts in Kensal Green Handymen Engineers Cyprus odd-job man Rotherhithe E1 Local Handyman Friendly Handyman New Addington Local Handyman in N3.
For you, we will resolve all your domestic and commercial problems as quickly as possible. We do not want to keep you waiting all day. With us, you will always have the convenience that you deserve.
If you are looking for someone to help you with your small scale jobs, we are just the right team for you. Send us an email or call us at 020-3322-6025 for a specialised kind of service like no other.
When you have minor household problems that you cannot handle, have it immediately done by out handyman. It is fast and affordable giving you the perfect choice that suits your budget.
Customer satisfaction is our topmost priority. If you require us to do a different kind of task, we can customise it just for you. We always want to make things convenient for you.
We are always available to hear and answer your queries and concerns. Do not hesitate to give us call at 020-3322-6025 or fill in the form for more details about our services.