The perfect team you can trust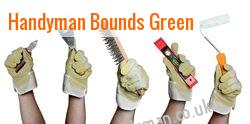 At Friendly Handyman, we can promise you that everything that our handyman does will be carried out at the highest possible standards. You will be secured that you are going to have the best value for money with us.
Your quick way out to household and office problems
You do not have to hire individual specialists just to help you on your leaking faucets, defective wiring or broken tables. With us everything can be done by one single man. Our handyman N11 is versatile to handle all types of job you may require. For Bounds Green, we are the number one team of professionals.
Why is it advantageous to choose us?
Friendly staffs
Reliable services
Affordable rates
Quick response
Organised workmanship
Efficient solutions
Our handyman service is undeniably your only resort to get things done right away. Call us at 020-3322-6025 for a quick response on your errands.
Looking for the right man to help you?
Our handymen are truly reliable and professional. They can undergo all types of tasks that you may require. Ranging from small scale jobs to the medium ones, we are just the right team to call which will never cause you any delay.
You may not have enough time to do the chores all by yourself. That is why we are here to give you the exact service that you need for a very affordable price. With our skilled handyman, you will never have to worry about anything else anymore.
We seek to only give the best to our clients. That is why we always adhere to the standards established so as to ensure that we always abide with the right quality. We do not want to make our clients worried but instead give them a complete peace of mind.
Doing decorative jobs for your satisfaction: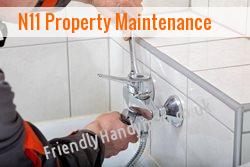 Woodwork painting
Painting and tiling
Plastering walls and ceilings N11
Filling cracks and holes
Re-sealing
Repairing old grout
Perfecting the tasks you require
You may be too busy to handle domestic jobs by yourself. Thus, we are here to offer you convenience at a very affordable rate. We can help you get things done with a minimum fuss instantly. You do not have to look for somebody else.
From simple dripping of tap to dangerous wires that run across the floor, we are the just right team you can call to help. We do our job unobtrusively so as not to disrupt your employees in their day to day transactions. With us, Bounds Green will no longer have problems dealing with all types of minor damages in their business establishments.
Our handymen are widely known for their expertise in doing all around fixes both for residential and commercial needs. They have the ability and competence to accomplish the job that you would require them to do in just a short time.
Bounds Green minor renovations - Call 020-3322-6025.
man of all work East London, Property Maintenance in E1 Handymen Engineers in Hale End man of all work in TW7 Jack of all trades EN4 Handymen Engineers in Goldhawk Road.
Only first class services will be provided to your end. We give our full focus on your requirements so as to ensure your complete satisfaction. Excellent results can always be expected from our team.
Specialising in all types of small jobs, we are just the right team to hire on your simple household errands. Call us at 020-3322-6025 right now to book for our exceptional services.
Every work done by our handyman is 100% guaranteed. Being a fully licensed and insured company, we can assure you that all things will be done professionally at your own pace and convenience.
We can give you a same day service to ensure that your emergencies will be given with a quick solution. Even if it is beyond the usual business hours, we can still offer our services to you. Remember that it is your satisfaction that we are most concerned of.
To book for our excellent services, call our professional handyman at 020-3322-6025 or send us an email. All types of small scale jobs are carried out at the highest possible standards.