Doing almost anything for you
Friendly Handyman's handymen specialises in all types of repairs and maintenance. They also do installation services as well as simple household jobs. You can never find a better package other than our affordable price and a quality workmanship.
Finding someone who can help you from start to finish?
Whatever chore you may require us to do, just name it and we will take care of it. Being the most trusted handyman company in Westway, we endeavour to be consistent with the quality of work that we provide to all our customers. Gaining the trust and confidence of our customers is rewarding enough for us.
Why choose our handyman?
Wealth of experience
Reliable handymen
Completes job on time
Comprehensive array of services
Qualified professionals
Reasonable and competitive rates
Rendering 24/7 services is our forte. Call us at 020-3322-6025 anytime for a reliable service that is sure to give you the satisfaction that you need.
Providing everything for your convenience
Our professionals are always happy to be of service to you. They will never cause you any delay or any disruption so as to prevent you from having a productive day at work. We can help you on your maintenance and repairs to ensure a safe workplace for everyone.
For the best service that is sure to give you the satisfaction that you deserve, have your errands done by our professional handyman. With us, all your problems will be gone making life much easier for you and your family.
You might have a very disappointing experience with others. But when you get to work with us, you will never experience the same thing again. All our handymen are honest, reliable and indeed straightforward. It is our promise to satisfy you at all times.
We have the skills to do the following but are not limited to: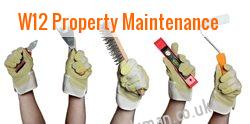 Carpentry
Plumbing
Painting
New Kitchens
Fences and Decks W12
Tile Flooring
Your reliable small jobs specialists
There is no better team you can rely on when it comes to your residential needs. WE have a complete range of handyman services that you can choose from. We can even customise services just for you. So why waste resources with others when you can have everything done at a very affordable price?
No matter what job you require, we are just the perfect handyman that you could rely on. With us, there is no need for you to require the services of individual specialists because our team is flexible enough to take care of everything. There is no better team to help you in Westway other than we.
Whether you need help on simple carpentry or decorative painting at your house, our handyman can help you deal with your needs. They can undergo all types of job that you would require them to do giving you a guarantee of complete satisfaction.
Westway Handyman - Call 020-3322-6025.
odd-job man London, N5 Handymen Engineers Southfields minor renovations Handyman Services Kilburn Park Reliable Handyman renovation experts Beckenham BR3 minor renovations in Turnham Green odd-job man N12 Shacklewell E8 Property Maintenance Property Maintenance W2 Handyman Services Malden TW12 man of all work minor renovations in Becontree North Kensington W10 odd-job man.
Whatever you would want us to do, we can always carry it out with quality. You do not need to find other service providers to help you with your needs. With us, all your problems will be fixed in no time.
If you are looking for a company offering services at a very affordable price, you have just come to the right place. Contact us at 020-3322-6025 for a quick response from our team.
For an all-around service provider that offers solutions at a very reasonable price, have our professional handyman work for you. Everything you need to be done is surely under our handyman's control.
We can give you a same day service to ensure that your emergencies will be given with a quick solution. Even if it is beyond the usual business hours, we can still offer our services to you. Remember that it is your satisfaction that we are most concerned of.
If you wish to have a same day service that guarantees your complete satisfaction, give us a call at 020-3322-6025 or send us an email. In no time, all your problems will be solved.