Small job specialists you can trust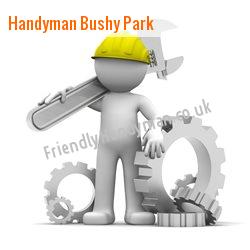 You can always have both affordability and quality all at the same time with Friendly Handyman. Our handyman services are competitively priced to suit your budget. No matter what service you may need, we can all take care of it with high quality.
Making your satisfaction as our number one goal
We pride ourselves for the excellent services that we provide TW12, Bushy Park for several years already. For responding promptly from the first time of call, we have gained the trust and confidence of our customers. Being fully equipped and skilled, we are confident enough that we would be able to satisfy our customers completely from start to finish.
Why most people choose us?
Satisfaction is always guaranteed
Wide range of services to offer
Highly skilled and knowledgeable handymen
Fully licensed and insured
No delays
Competitively priced
Do not hesitate to call us at 020-3322-6025 to inquire about our handyman services. With our license and insurance, you can always be safe with us.
Repairs and maintenance made easy
Causing you delays and troubles is never our practice. Our handymen are very professional. They will quickly respond to your call and start immediately to get things done in no time.
No one could ever match the excellence that our handyman provides to our customers. For several years, we have been in the service of people giving them the complete satisfaction that they truly deserve.
You might have a very disappointing experience with others. But when you get to work with us, you will never experience the same thing again. All our handymen are honest, reliable and indeed straightforward. It is our promise to satisfy you at all times.
Services that made us on top: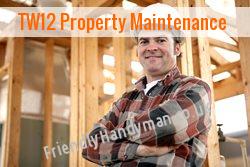 Decorating
Plumbing
Electrical
Refurbishments
Carpentry TW12
Gardening
Letting you live better than ever
We are also the very team you can trust when it comes to quality home improvement jobs. Our handyman can help you get the results that you wish at a very affordable price. You can never find a better company other than us.
Make your stores and establishments aesthetically good to look at. Impress your customers through our excellent quality services. We are here to help Bushy Park experience a different kind of service that is truly worth the money that they spend for.
We do not just assist you on your installation and other minor jobs. We also provide maintenance and repair services for your convenience. With our skilful handyman, you will never have to deal with your problems much longer.
Bushy Park Handyman Services - Call 020-3322-6025.
domestic repairs North West London, domestic repairs in Purley Handymen Engineers KT9 Friendly Handyman Aldgate East Handyman Monument Property Maintenance Reliable Handyman Russell Square Upper Edmonton Local Handyman E14 minor renovations South Bank Friendly Handyman Property Maintenance Surbiton renovation experts in EN2.
We can do anything under the heat of the sun. Our handyman can take care of anything that you wish them to do. That is why all your worries will be gone when you get to work with our professionals.
Cannot find the exact service you would like us to do for you? Please do not hesitate to give us a call at 020-3322-6025. We can help you with the very service that you just need.
For an affordable service that is truly effective and would definitely work well for you, have your small to medium sized jobs be done by our handyman. Our team can take care of all your needs without letting you spend too much.
We always give special attention to every job that we do. As a result, we constantly satisfy our clients. Our workmanship guarantees the quality and excellence of every work undertaken.
To find out more about our services and our team of qualified handyman, feel free to give us a call at 020-3322-6025 or fill out the form. We are always happy to serve you.