Doing almost anything for you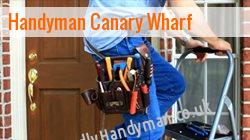 If you want things to get done as quickly as possible, then perhaps you could consider our handyman services at Friendly Handyman. With us, you will surely have the best service there is giving you the very convenience that you just need.
Your round the clock domestic and commercial operatives
We understand very well how handling repairs and maintenance could cause you much trouble most especially if you are constrained with time. That is why we are here to help. Offering the widest range of services for all your domestic needs, you do not have to hire multiple specialists just to get things done. In Canary Wharf, we are the most flexible team you can rely on.
Why more and more people come to us?
Fully licensed and insured
Competitively priced
Satisfaction is always guaranteed
Highly skilled and knowledgeable handymen
Wide range of services to offer
No delays
If you think you cannot do it, then let us do it for you. Contact us today at 020-3322-6025 to learn more about our efficient and excellent services.
Making things simpler for you all the time
Arranging tasks on a regular basis works well for most of our commercial customers. They can have everything ensured at your very convenience. Services are customised to suit all your needs.
Accomplishing your requirements has always been our mission. At a very affordable price, we can give you the best service that would surely satisfy all your needs. With us, you don't need to look much further.
We always keep our focus on our work in order to ensure good results. In this way, we can guarantee our customers their full satisfaction at all times. With us, our customers will always have the first class services that are second to none.
Excellent workmanship on the following services: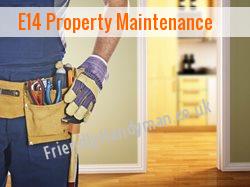 Remodelling of Basement
Remodelling of Kitchen E14
Tile and Flooring
Carpentry
Electrical
Drywall Installation or Replacement
Giving full effort for your satisfaction
We are a reliable and trustworthy handyman company doing wide range of services for every household. No job is too small or too big. What we are after is to satisfy you completely and provide convenience to you at all times.
We pride ourselves for being the number one choice of Canary Wharf when it comes to commercial handyman services. From simple cracks to major remodelling services, we are just the very team that most business owners trust.
No matter what type of job that you would require us to do, we can always take care of it professionally for your satisfaction. Our skills and knowledge are sure to give you the best results like no other.
Canary Wharf Property Maintenance - Call 020-3322-6025.
Handyman Services East London, Reliable Handyman Ealing Hendon NW4 Jack of all trades in UB8 Bushy Park TW12 Jack of all trades in Drayton Park SE3 Handymen Engineers in Willesden Junction Reliable Handyman in SW6 odd-job man Copthall NW4.
Emergencies are entertained by our handymen. Of course, we will respond to your call as soon as we have known about your case. We will never keep you waiting because a single minute is already detrimental to your safety.
Fast and quick service can always be done without compromising the quality. Contact us at 020-3322-6025 for more details about our handyman services.
In just a short notice, our handymen can give you an assurance that they help fix your problem effectively. They have all the experience to guarantee that all their jobs will be done at the highest possible standards.
We always give special attention to every job that we do. As a result, we constantly satisfy our clients. Our workmanship guarantees the quality and excellence of every work undertaken.
For a residential or commercial errand that needs to be done instantly, call us right away at 020-3322-6025 or send us an email. Services at its highest standard are always ensured.