An all-around service provider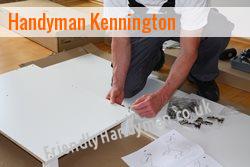 Friendly Handyman is Kennington's favourite. All our handyman are very much reliable on all types of work that need to be done like, carpentry, painting, plumbing, some electrical jobs and gardening. The customers are always satisfied with us.
Who says you can't have everything in just one call?
If there is something that needs to be fixed, we are just the very team you can call. You can definitely rely on us because we always do things the right way. Making the customers our first priority, we have truly become Kennington's most favourite handyman company SE11. You can never go wrong with us.
Reasons why we excel:
Completes job effectively
Affordable rates
Always on the go
Fully insured
Quick response
Professional team of handymen
Rendering 24/7 services is our forte. Call us at 020-3322-6025 anytime for a reliable service that is sure to give you the satisfaction that you need.
Offering the best experience there is
Every handyman we have is an expert and adept in dealing with all types of jobs which includes the commercial ones. Whatever jobs you may require him to do, he can finish it on time unobtrusively.
If you get to work with the right team of professionals, you will surely have the best experience in your entire life. Our handyman can give you a great experience that will surely guarantee your satisfaction at all times.
You might have a very disappointing experience with others. But when you get to work with us, you will never experience the same thing again. All our handymen are honest, reliable and indeed straightforward. It is our promise to satisfy you at all times.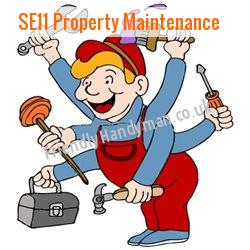 What we can do for you:
Plumbing
Electrical
Decorating
Cleaning
Fitting, fixing and hanging SE11
Flooring
Making everything easy for you
When you need an instant help with your plumbing and electrical jobs at home, you do not need to call a plumber and an electrician separately. You can have it all done by a handyman. With our professional, you do not have to spend much.
From simple dripping of tap to dangerous wires that run across the floor, we are the just right team you can call to help. We do our job unobtrusively so as not to disrupt your employees in their day to day transactions. With us, Kennington will no longer have problems dealing with all types of minor damages in their business establishments.
We do not just assist you on your installation and other minor jobs. We also provide maintenance and repair services for your convenience. With our skilful handyman, you will never have to deal with your problems much longer.
Kennington Property Maintenance - Call 020-3322-6025.
man of all work West Central London, E5 renovation experts in NW9 Becontree RM9 Local Handyman Local Handyman in SW5 Reliable Handyman in N13 Jack of all trades man of all work Belvedere DA17 Local Handyman Handymen Engineers Rotherhithe E1 Friendly Handyman renovation experts in BR6 Bank EC2 Friendly Handyman Jack of all trades Lewisham N13 minor renovations.
No job is too simple or too complex for us to handle. All your requirements will be dealt with professionally. You can always count on us no matter what type of work that you may require from us.
It is our utmost concern to satisfy every need that our customer has. So for an excellent workmanship that handles the job completely, call us today at 020-3322-6025.
Every work done by our handyman is 100% guaranteed. Being a fully licensed and insured company, we can assure you that all things will be done professionally at your own pace and convenience.
You can always depend on our works no matter what job you may require us to do. With honest and reliable handymen, your choice of having us will bear great results.
Who says you cannot have quality and affordability at the same time? If you want to have a service that fits right to your budget, then call us today at 020-3322-6025 or send us an email.