Giving you a complete service on all your needs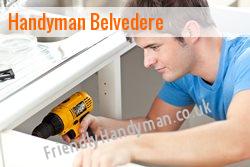 For a 24/7 handyman service, Friendly Handyman is just the right professional to hire. We always make ourselves available for you in order to help you with simple jobs that need to be done with quality skills.
Fully dedicated to take care of everything for you
Offering the most complete domestic services for Belvedere, no one would ever have to look much further other than our team. Our DA17 professionals understand your needs better than those other typical service providers. In just one single call, you can have the solutions that you just need for all your residential repairs and maintenance needs.
Benefits in choosing us:
Fully insured
Fully licensed
Reliable team
Always professional
Covers both residential and commercial needs
100% work guaranteed
Let us do the jobs that you can't do. Contact us today at 020-3322-6025 for more inquiries about our wide range of services.
Making things simpler for you all the time
We are the very team who can help you maintain an efficient workplace for you and your staffs. Your business transactions can run smoothly while we do the small scale jobs for you. Prompt response is always guaranteed by our handymen.
Fixing leaks and repairing your broken table would never be easy. That is why we are here to help you deal with your problems at your convenience. Our handymen are very much reliable to do all the things that are needed to be done at the highest standard.
Our handymen always abide with the established standards and the professional Code of Conduct. That is why in every service rendered, our customers can be assured that all will be done at the highest possible standards guaranteeing their complete satisfaction.
Doing decorative jobs for your satisfaction: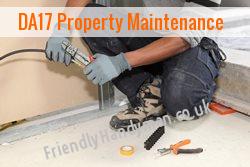 Woodwork painting
Painting and tiling
Plastering walls and ceilings DA17
Filling cracks and holes
Re-sealing
Repairing old grout
Leading the way for a much easier living
We are a reliable and trustworthy handyman company doing wide range of services for every household. No job is too small or too big. What we are after is to satisfy you completely and provide convenience to you at all times.
For a more productive business and a better image build up, we are just the perfect handyman team you can trust to help you with your repairs. With our training, skills and expertise, anything that needs to be done will be taken care of professionally. In Belvedere, when you speak of high quality service, we are just the very name that would ring a bell.
If we are talking about all around expertise, then no one would surely beat our handyman's professional capabilities. They can do all types of jobs that you wish them accomplish. With our handyman, all your worries would surely disappear in no time.
Belvedere Handyman Services - Call 020-3322-6025.
domestic repairs West London, Handyman Services West Kensington W14 Handyman in Cheam odd-job man SE1 DIY expert Handyman Services Hammersmith W6 Handymen Engineers Reliable Handyman in N4 DIY expert Kennington Handyman Services E1 man of all work Wandsworth Road SW8 Bayswater Friendly Handyman Handyman Ladbroke Grove Notting Hill W11 Reliable Handyman Property Maintenance Seven Sisters N15 man of all work Upper Norwood SE19.
We can fix your problem even if it takes time. Our concern is how to keep you satisfied at all times. That is why in every job that we do, we always make sure all your requirements are accomplished right on time.
Have your requirements be assessed by our handyman. Call us at 020-3322-6025 and know the exact service that you need for your specific requirements.
We are the very company who has the heart to understand the needs of the people and gives a full dedication for our customers' full satisfaction. No matter what you need, our handyman can take care of it just for you.
We hate to cause you any delay. That is why as much as possible, we fix things on time. When we receive your call, we will immediately attend to your needs so as not to prolong your agony.
Keeping you satisfied is our mission. So for a service that can always satisfy you, have it with our reliable handyman. Give us a call at 020-3322-6025 or send us an email for more details.