A helping hand on all your errands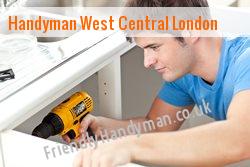 For quick and efficient services that are truly unmatched, have our team of handymen at Friendly Handyman. You will surely have the best service that could guarantee your complete satisfaction and a total peace of mind.
Fully dedicated to take care of everything for you
If there is something that needs to be fixed, we are just the very team you can call. You can definitely rely on us because we always do things the right way. Making the customers our first priority, we have truly become West Central London's most favourite handyman company WC, WC1.... You can never go wrong with us.
Few advantages you could have with us:
Caters emergencies
Fully insured
Licensed and accredited
Guaranteed services
Fully dedicated professionals
Honest pricing
We can help you deal with your household and small commercial errands. Call us at 020-3322-6025 for the best service that is second to none.
Your one-stop shop for small scale jobs
Causing you delays and troubles is never our practice. Our handymen are very professional. They will quickly respond to your call and start immediately to get things done in no time.
There is no better team to help you with your needs other than our reliable and professional group of handymen. We are very much dedicated in giving you the convenience that you need and the satisfaction that you have always wanted.
We are honest, reliable and very accommodating. You will never have problems dealing with us because we always give our heart to offer you the best service. Our services are always at its highest standard to show you how sincere we are in making you happy.
What our handyman can do for you: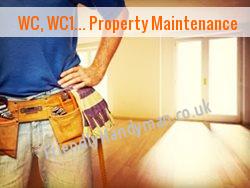 General Jobs
Decorating
Carpentry
Refurbishments WC, WC1...
Electrical
Plumbing
Round the clock solution to your needs
You can entrust your entire household to our handyman. Everything that needs to be done will be taken care of by our professionals. All their services are truly efficient and give you the best value for your money.
It is only with West Central London's best that you can experience high quality handyman services that will totally satisfy all your needs. You need not to spend much. At a very affordable rate, you can have the very service that you need no matter how simple or complicated the task could be.
Our handymen are not just available for simple installation and other minor residential and commercial jobs. They are also very adept in doing repairs and maintenance. For your comfort and convenience, we will always make ourselves available 24/7.
West Central London Local Handyman - Call 020-3322-6025.
Friendly Handyman Central London, Maida Vale renovation experts Friendly Handyman in Leytonstone Barbican EC2 Friendly Handyman Property Maintenance Trafalgar Square WC2.
We can fix your problem even if it takes time. Our concern is how to keep you satisfied at all times. That is why in every job that we do, we always make sure all your requirements are accomplished right on time.
If you value your time so much, then let us do the job for your very own convenience. Call at 020-3322-6025 today and know more about what we can exactly do for you.
If you are looking for an all-around affordable service, we are just the right company for you. We take pride on what our handymen are capable of to provide you the satisfaction that you deserve. All their works are truly cost-effective.
All jobs are done excellently and professionally. Your concerns are given with high regard giving you a guarantee that every detail will be done accordingly.
For a service that offers great value for money, call us at 020-3322-6025 or send us an email. With us, you will never have to spend much just to have the best and reliable service.