The handyman that could help you all throughout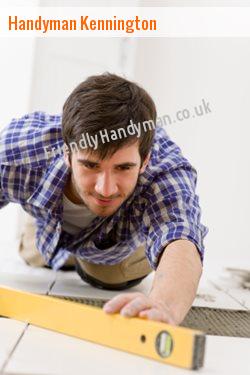 Friendly Handyman is an expert when it comes to giving the customer a total peace of mind. With skills and knowledge in all types of small scale jobs, you will surely have the best experience with our team.
Your round the clock domestic and commercial operatives
If there is something that needs to be fixed, we are just the very team you can call. You can definitely rely on us because we always do things the right way. Making the customers our first priority, we have truly become Kennington's most favourite handyman company SE17. You can never go wrong with us.
Benefits in choosing us:
Fully insured
Fully licensed
Reliable team
Always professional
Covers both residential and commercial needs
100% work guaranteed
Discuss your requirements with our handyman by simply calling us at 020-3322-6025. With us, you can save both time and money all the time.
A total service for your total satisfaction
All types of jobs are professionally carried out by our handymen. Whether you require a simple job or a difficult one, they can always take care of it for you. It is our promise not to cause you any delay.
No one could ever match the excellence that our handyman provides to our customers. For several years, we have been in the service of people giving them the complete satisfaction that they truly deserve.
It is your satisfaction that keeps us going. Thus in every job that we do, we always ensure that you get the best of what we have to offer. Whatever you require from us, we will handle it excellently for your total satisfaction.
Extending our hand to do the following: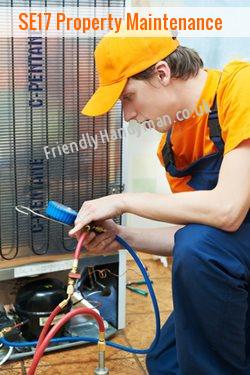 Cleaning
Fitting, fixing and hanging SE17
Electrical
Plumbing
Flooring
Decorating
Perfecting the tasks you require
You may be too busy to handle domestic jobs by yourself. Thus, we are here to offer you convenience at a very affordable rate. We can help you get things done with a minimum fuss instantly. You do not have to look for somebody else.
For a more productive business and a better image build up, we are just the perfect handyman team you can trust to help you with your repairs. With our training, skills and expertise, anything that needs to be done will be taken care of professionally. In Kennington, when you speak of high quality service, we are just the very name that would ring a bell.
We do not just assist you on your installation and other minor jobs. We also provide maintenance and repair services for your convenience. With our skilful handyman, you will never have to deal with your problems much longer.
Kennington odd-job man - Call 020-3322-6025.
Local Handyman North East London, Friendly Handyman NW1 Handyman renovation experts NW3 Handyman in Haggerston Bromley BR1 Friendly Handyman Friendly Handyman Totteridge Whetstone Property Maintenance Thamesmead SE2 Property Maintenance W13 Winchmore Hill N21 domestic repairs odd-job man.
All your concerns will be taken care of as soon as possible. Even if it takes too much work, we will professionally deal with it for your complete satisfaction. We are the very persons you can rely on at all times.
If you are looking for someone to help you with your small scale jobs, we are just the right team for you. Send us an email or call us at 020-3322-6025 for a specialised kind of service like no other.
For a reliable team that can help you on all types of job from plumbing to electrical works or carpentry and decorative jobs, our handymen are the right persons to call. All your needs will be professionally handled by our experts.
Nothing is more important to us than satisfying you completely. That is why we customise our services just to fit to your needs. With a very reasonable price, you can have the service that you need.
Keeping you satisfied is our mission. So for a service that can always satisfy you, have it with our reliable handyman. Give us a call at 020-3322-6025 or send us an email for more details.