Highly recognised for all types of work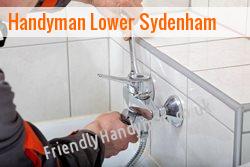 Guaranteeing your total satisfaction through our quality results has always been our topmost priority at Friendly Handyman. We can promise you that our handyman will never give you the same problem that you had with others.
The kind of expertise that you cannot find with others
From simple household chores to major improvements, our SE26 handyman is the right person that you can call. Doing all types of job for everyone's convenience and satisfaction, Lower Sydenham would no longer have a hard time dealing with these certain chores.
Why we have a growing base of clients?
Wide range of services to offer
No delays
Fully licensed and insured
Satisfaction is always guaranteed
Competitively priced
Highly skilled and knowledgeable handymen
For a quality job on repairs and maintenance, our handyman is the perfect professional to call. Contact us at 020-3322-6025 and get things done instantly.
Repairs and maintenance made easy
As much as possible, we carry out our works discreetly without causing you any disruption at all. With our fully licensed and insured handyman, you can always entrust your entire workplace with us.
If you need help with simple installation or a minor painting job, our handyman could probably be of any help to you. With their skills and experience in doing all types of jobs, you will surely not regret having them to work for you.
As much as possible, we leave no room for mistakes. But if there are instances wherein you are not satisfied with our job, we can always redo it just for you. We will show you that we are indeed doing everything just to make you fully satisfied.
Other big jobs that we can do for you: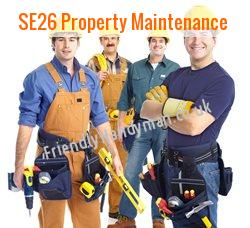 Kitchen Fitting
Laminate Flooring SE26
Floor Tiling
Wall Tiling
Bi-Folding doors
Built in Shelving
Unmatched handyman expertise
Excellent customer service is always apparent in our every transaction, which is the very reason why we have become the first choice of every household. Professionalism and efficient solutions are always guaranteed by our handymen.
Throughout these years, Lower Sydenham no longer worries about its commercial repairs and maintenance needs. With us, all that needs to be done will be promptly attended to with an assurance of high quality workmanship. Our skills, experience and complete array of services could say it for us.
Whether you need help on simple carpentry or decorative painting at your house, our handyman can help you deal with your needs. They can undergo all types of job that you would require them to do giving you a guarantee of complete satisfaction.
Lower Sydenham Property Maintenance - Call 020-3322-6025.
minor renovations London, Local Handyman Friendly Handyman NW11 Southwark SE1 DIY expert Jack of all trades Mornington Crescent NW1 man of all work SW4 renovation experts.
You rightfully deserve to be treated fairly. That is why we always give what is due to you. High quality services can always be expected. In the same way, we promise to leave your premises clean and tidy after work.
If you are looking for someone to help you with your small scale jobs, we are just the right team for you. Send us an email or call us at 020-3322-6025 for a specialised kind of service like no other.
For a reliable team that can help you on all types of job from plumbing to electrical works or carpentry and decorative jobs, our handymen are the right persons to call. All your needs will be professionally handled by our experts.
You can never find a better team who is fully dedicated in carrying out all types of work. Our handyman is sincere in keeping you satisfied at all times.
Who says you cannot have quality and affordability at the same time? If you want to have a service that fits right to your budget, then call us today at 020-3322-6025 or send us an email.