Travelling anywhere to reach your end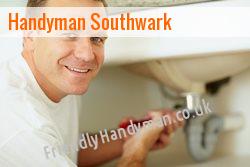 Friendly Handyman's handymen is the very team that you can always rely on. Our experience can guarantee you that no matter what type of service that you may require, we can excellently carry it out for you.
Choosing the best for your convenience and satisfaction?
Offering the most complete domestic services for Southwark, no one would ever have to look much further other than our team. Our SE1 professionals understand your needs better than those other typical service providers. In just one single call, you can have the solutions that you just need for all your residential repairs and maintenance needs.
What we are most proud of:
Licensed and accredited
Fully insured
Honest pricing
Fully dedicated professionals
Caters emergencies
Guaranteed services
For a same day service, call us at 020-3322-6025. Our handyman will be at your place to do the jobs you require in no time.
Repairs and maintenance made easy
All the jobs we do are done in a very unobtrusive manner. We understand how much you value your time and privacy. That is why we can guarantee you that we will finish the job in no time for your satisfaction.
Choosing us will always be the best decision that you have ever made. You can never go wrong with our handyman who are fully licensed and insured in doing all types of jobs whether it is of residential concern or that of the commercials.
For all your residential and commercial needs, we have the team that you can always rely on and trust. We will promptly respond to all your needs and never keep you waiting. We value your time just the way you value yours.
Services we are known for: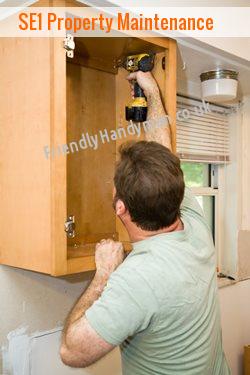 General Home Maintenance SE1
Plumbing
Painting and Wall Treatments
Remodelling of Bathrooms
Fences
Decks
Offering the best for your peace of mind
Excellent customer service is always apparent in our every transaction, which is the very reason why we have become the first choice of every household. Professionalism and efficient solutions are always guaranteed by our handymen.
When it comes to excellent commercial handyman services, nothing beats our team. You do not need to require individual specialists to take care of your various needs. With Southwark's best, you sure have someone you can certainly rely on.
Our handyman are fully licensed, insured and definitely fully equipped. They are well adept in handling all types of jobs that you would require whether at home or in a business establishment. Your satisfaction and convenience is our utmost concern.
Southwark domestic repairs - Call 020-3322-6025.
London, Jack of all trades Westbourne Grove WC2 W4 man of all work Local Handyman in Gloucester Road man of all work in W1M Paddington W9 Local Handyman DIY expert EC3 Western Avenue W3 minor renovations Jack of all trades NW1 Local Handyman in SW1.
We have a team of skilled and knowledgeable handymen who always give their full dedication in helping every household. Our professionals will be there as quickly as possible to take away all your worries instantly.
We can help you with jobs that you hate to do. Contact us at 020-3322-6025 today for your queries and concerns.
Not only that our handymen are fully licensed and insured. They are also guaranteed to be fully equipped at all times to carry out their tasks well. No matter what type of job that you would require, they can surely live up to your expectations.
We can guarantee you that when you work with us, you will never experience the disappointments and regrets that you had with your previous handyman. We are all professionals and would always give you the best service. You can always count on us.
In no time, we can help you fix everything at your place. Call us at 020-3322-6025 or fill out the form for a prompt response on all your small scale jobs.