Your leading partner for all types of work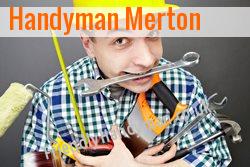 Friendly Handyman is an expert when it comes to giving the customer a total peace of mind. With skills and knowledge in all types of small scale jobs, you will surely have the best experience with our team.
First rated services for your total satisfaction
Our experience in this field is truly unmatched. Serving SM4, Merton for many years already, we have proven to its every household that with our skills and experience, they will truly never go wrong. We can make your dreams come true, apart from the mere promises that other typical service providers give.
Why we are undisputed?
Excellent skills and workmanship
Competitive prices
Several years of experience
Offers services to both domestic and commercial entity
Wide range of services
Customising service just for you
For a quality job on repairs and maintenance, our handyman is the perfect professional to call. Contact us at 020-3322-6025 and get things done instantly.
Ensuring you get the best out of your money
Arranging tasks on a regular basis works well for most of our commercial customers. They can have everything ensured at your very convenience. Services are customised to suit all your needs.
When you think you can no longer spare time to fix the damages at your place, our handyman is just right here available to be of any help to you. Anything under the heat of the sun is carried out excellently just for you.
Full commitment is always given by our professional handymen to all their undertakings. They always make sure that they would be able to satisfy you completely by delivering you the exact service that you always wanted.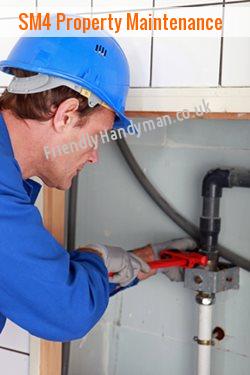 Plumbing services we can specifically cater for you:
Repairing leaks on taps and pipes
Clearing internal waste pipes
Fixing toilet cisterns SM4
Washing machine and dishwasher installation
Replacing radiators
Garden taps installation
Quality services at a very affordable rate
If you have no time to do your household chores all by yourself, then we can help you do for your convenience and satisfaction. We understand that you may have a lot of things to worry which is why we offer you our services to make things easier for you.
We are a professional handyman company offering the widest range of services in Merton. Our team has a wealth of experience in dealing with all kinds of services required. With consistent quality work that is always done right the first time, you would surely have great satisfaction whenever you get to work with us.
For your emergencies at home, there is no better professional to call but our highly skilled and knowledgeable handyman. Whether you require a plumbing or electrical job to be done, they know exactly what to do just to fix the very problem that you have.
Merton DIY expert - Call 020-3322-6025.
Reliable Handyman London, Friendly Handyman Reliable Handyman EC4 man of all work in Ladywell W5 Handyman Local Handyman in NW11 Property Maintenance in TN14 Piccadilly Circus W1 Local Handyman Bow Road minor renovations TW7 renovation experts.
We can customise our services according to the requirements of our clients. Everything we do is entirely made for the purpose of making things easy for our customers as well as satisfying them completely.
If you are looking for a company offering services at a very affordable price, you have just come to the right place. Contact us at 020-3322-6025 for a quick response from our team.
When you have minor household problems that you cannot handle, have it immediately done by out handyman. It is fast and affordable giving you the perfect choice that suits your budget.
We can guarantee you that when you work with us, you will never experience the disappointments and regrets that you had with your previous handyman. We are all professionals and would always give you the best service. You can always count on us.
Save time and money with our handyman services. Contact us at 020-3322-6025 or send us an email today. You will always have the best service with our team.