Doing almost anything for you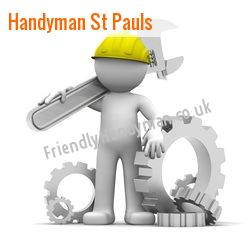 Guaranteeing your total satisfaction through our quality results has always been our topmost priority at Friendly Handyman. We can promise you that our handyman will never give you the same problem that you had with others.
Your knowledgeable professionals to help you at all times
Offering the most complete domestic services for St Pauls, no one would ever have to look much further other than our team. Our EC4 professionals understand your needs better than those other typical service providers. In just one single call, you can have the solutions that you just need for all your residential repairs and maintenance needs.
Benefits in choosing us:
Fully insured
Fully licensed
Reliable team
Always professional
Covers both residential and commercial needs
100% work guaranteed
We can help you deal with your household and small commercial errands. Call us at 020-3322-6025 for the best service that is second to none.
Dependable individuals who are truly professional
We can help you let your business run smoothly while we do the jobs for you. With our professional handymen, solutions will be given at the best time possible without any disruption.
Whether you need help at home or in any business establishment, we are just the right team who can help you. Our handymen always make sure that everything will be done excellently to provide you with the total satisfaction that you deserve.
Our fine customer service has always been the number one consideration that our people have in choosing us to be their company. We never disappoint our clients. We have always been the best team to serve every household and commercial entity.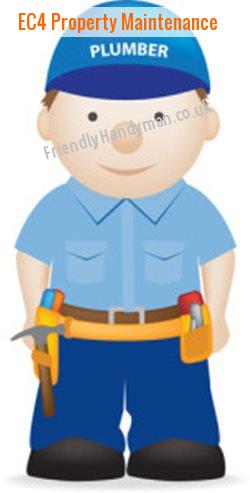 Our excellent services:
Refurbishment
Electrical
Plumbing
Odd jobs EC4
Decorating
PAT Testing
Accommodating anything for you
There is no better team you can rely on when it comes to your residential needs. WE have a complete range of handyman services that you can choose from. We can even customise services just for you. So why waste resources with others when you can have everything done at a very affordable price?
For a more productive business and a better image build up, we are just the perfect handyman team you can trust to help you with your repairs. With our training, skills and expertise, anything that needs to be done will be taken care of professionally. In St Pauls, when you speak of high quality service, we are just the very name that would ring a bell.
Our handyman are fully licensed, insured and definitely fully equipped. They are well adept in handling all types of jobs that you would require whether at home or in a business establishment. Your satisfaction and convenience is our utmost concern.
St Pauls Property Maintenance - Call 020-3322-6025.
minor renovations London, N7 Handyman Services Friendly Handyman in N22 renovation experts N3 Borough SE1 The Wrythe renovation experts in E10 Jack of all trades Park Lane domestic repairs Greenwich minor renovations in N7 Friendly Handyman in NW10 Handyman in N2 DIY expert in Havering atte Bower renovation experts in Barnes TW9 Local Handyman domestic repairs minor renovations Kensal Town Crayford DA1 minor renovations.
We have a team of skilled and knowledgeable handymen who always give their full dedication in helping every household. Our professionals will be there as quickly as possible to take away all your worries instantly.
If you want to get things done instantly, we have a team of reliable handymen who can help you with your needs. Simply contact us at 020-3322-6025 and have the best only with us.
We are a leading handyman company offering quality services and a very comfortable living. With our handyman's skills and competence, you can never go wrong with your choice of professional team.
It is our goal to keep you happy at all times. If ever you are unsatisfied, we can always redo it. The important thing is we have made you happy and completely satisfied as well.
Fixing things all by yourself could never be that easy. Call us at 020-3322-6025 or send us an email to get in touch with our handyman. You will never regret working with us.