The kind of workmanship that could satisfy you completely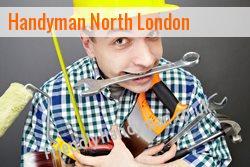 Friendly Handyman is an expert when it comes to giving the customer a total peace of mind. With skills and knowledge in all types of small scale jobs, you will surely have the best experience with our team.
Making your satisfaction as our number one goal
If you are looking for a carpenter to fix your broken chairs or searching for a good plumber to repair the leaks, then look no further. Our handyman N, N1... can take care all of it. Providing the widest range of domestic services in North London, you would surely experience total satisfaction without having to spend much.
Why entrust everything to us?
We are trusted by many
We have a friendly and accommodating team to help you
We can help you save money
We have a team of highly trained handymen
We can do all-around services efficiently
We are available 24/7
Rendering 24/7 services is our forte. Call us at 020-3322-6025 anytime for a reliable service that is sure to give you the satisfaction that you need.
Ensuring you get the best out of your money
Every handyman we have is an expert and adept in dealing with all types of jobs which includes the commercial ones. Whatever jobs you may require him to do, he can finish it on time unobtrusively.
If you need help with simple installation or a minor painting job, our handyman could probably be of any help to you. With their skills and experience in doing all types of jobs, you will surely not regret having them to work for you.
We are honest, reliable and very accommodating. You will never have problems dealing with us because we always give our heart to offer you the best service. Our services are always at its highest standard to show you how sincere we are in making you happy.
Doing the following electrical works for you: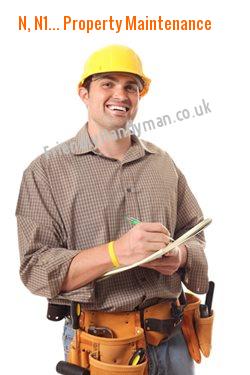 Light fittings
Light bulbs replacement N, N1...
Extractor fans replacement
Replacement of sockets, switches and transformers
Fault finding
Portable appliance testing
Making things different for you
We have the very skills to deal with your home improvement projects. Our handymen are well adept and knowledgeable to undertake these tasks that you require. With quality workmanship, you will never have to look much further.
To ensure that you get the best service that satisfies you completely, contact North London's number one handyman. With us, repairs and maintenance could be done at the highest possible standards without having to spend much. We are the very team you can definitely rely on at all times.
We can take all the worries away from you. With our professional handyman, all your required jobs will be carried out efficiently at a very affordable price. Who says you can't have quality and affordability all at the same time?
North London Friendly Handyman - Call 020-3322-6025.
renovation experts West Central London, Dalston Junction odd-job man EC2 man of all work Reliable Handyman W10 odd-job man Childs Hill Holland Park Handyman Services renovation experts in Marylebone Cheam SM3 Reliable Handyman.
We can customise our services according to the requirements of our clients. Everything we do is entirely made for the purpose of making things easy for our customers as well as satisfying them completely.
For an excellent workmanship that guarantees your complete satisfaction, contact us at 020-3322-6025 today. You will always have the best experience with our team.
We are a leading handyman company offering quality services and a very comfortable living. With our handyman's skills and competence, you can never go wrong with your choice of professional team.
We hate to cause you any delay. That is why as much as possible, we fix things on time. When we receive your call, we will immediately attend to your needs so as not to prolong your agony.
Fixing things all by yourself could never be that easy. Call us at 020-3322-6025 or send us an email to get in touch with our handyman. You will never regret working with us.