Friendly handyman at your service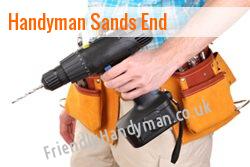 For quick and efficient services that are truly unmatched, have our team of handymen at Friendly Handyman. You will surely have the best service that could guarantee your complete satisfaction and a total peace of mind.
Guaranteeing your safety and full satisfaction as well
Offering the most complete domestic services for Sands End, no one would ever have to look much further other than our team. Our SW6 professionals understand your needs better than those other typical service providers. In just one single call, you can have the solutions that you just need for all your residential repairs and maintenance needs.
Few advantages you could have with us:
Caters emergencies
Fully insured
Licensed and accredited
Guaranteed services
Fully dedicated professionals
Honest pricing
For the best handyman that can get things done right away, call us at 020-3322-6025. You will always be satisfied with our excellent workmanship.
Your one-stop shop for small scale jobs
Causing you delays and troubles is never our practice. Our handymen are very professional. They will quickly respond to your call and start immediately to get things done in no time.
We are a fully licensed and insured company offering quality handyman services in the entire Sands End. With expertise in doing small scale jobs to medium ones, we can guarantee that we will surely satisfy all your needs.
We are honest, reliable and very accommodating. You will never have problems dealing with us because we always give our heart to offer you the best service. Our services are always at its highest standard to show you how sincere we are in making you happy.
Plumbing jobs we can handle: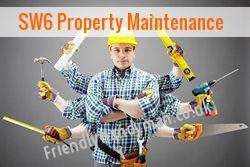 Fixing Toilet Problems
Fixing leaking taps and pipes
Toilet, Sink or Urinal Unblocking SW6
Installing a Dishwasher or Washing Machine
Bath or Shower Screen Fitting
Towel Rail or Radiator Replacement
Accommodating anything for you
There are actually a lot of errands that needs to be done at home. If you have no time to spare in doing these by yourself, we can take care of it for you. We have the all the skills and competence to carry out any job that you would require us to do.
From simple dripping of tap to dangerous wires that run across the floor, we are the just right team you can call to help. We do our job unobtrusively so as not to disrupt your employees in their day to day transactions. With us, Sands End will no longer have problems dealing with all types of minor damages in their business establishments.
No matter if you require a small or a medium sized job, our fully licensed and insured handymen can help you get things done just for you. We have years of experience to prove that all our jobs are done at the highest possible standards.
Sands End Friendly Handyman - Call 020-3322-6025.
minor renovations West London, W6 Local Handyman Friendly Handyman W1 renovation experts Muswell Hill N10 Handyman Services Bank EC3 odd-job man.
We can always take away the stress in you. After we have accomplished our work, we will then clean your place to keep it as tidy as possible. We take full responsibility of keeping your place organised after every task.
If you are looking for a company offering services at a very affordable price, you have just come to the right place. Contact us at 020-3322-6025 for a quick response from our team.
For a reliable team that can help you on all types of job from plumbing to electrical works or carpentry and decorative jobs, our handymen are the right persons to call. All your needs will be professionally handled by our experts.
We can guarantee you that when you work with us, you will never experience the disappointments and regrets that you had with your previous handyman. We are all professionals and would always give you the best service. You can always count on us.
Get in touch with our handyman by simply calling us at 020-3322-6025 or sending us an email. We can help you fix and repair anything at your place.