The perfect team you can trust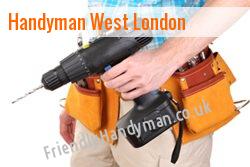 There is always a solution to everyone's problem. By just calling our highly skilled and knowledgeable handyman, all your worries would surely be gone. With our quality services at Friendly Handyman, you will never have to look for other service providers.
Guaranteeing your safety and full satisfaction as well
When we promise, we always deliver it exceptionally. Being West London's most trusted team of handymen W, W1..., we make sure that the services we provide will always satisfy our customers. At a time that suits them best, we will complete the job in no time. Our experience and skills can guarantee the full satisfaction of our customers.
Why choose our handyman?
Wealth of experience
Reliable handymen
Completes job on time
Comprehensive array of services
Qualified professionals
Reasonable and competitive rates
For a quality service that will never disappoint you, call us at 020-3322-6025. Our handyman will always give you the best service there is.
Tailoring services that suit well for you
Reliable and professional services are what we are known for. Many commercial entities can attest on how we efficiently deal with their problems. We do it unobtrusively and effectively for their complete satisfaction.
As a trusted company, we have always consistently provided our customers with quality services at a very reasonable price. That is why through the years, we have always been the number one company in their hearts.
After we are done with our work, we will always keep your place clean and tidy. We will never leave any mess that could cause stress on your part. As professionals, we will make sure that we give you what is due to you.
Doing the following electrical works for you: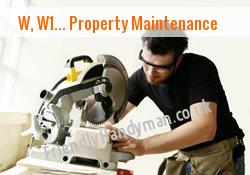 Light fittings
Light bulbs replacement W, W1...
Extractor fans replacement
Replacement of sockets, switches and transformers
Fault finding
Portable appliance testing
Leading the way for a much easier living
Whether you require a simple or a complicated job, our handyman can take care of it just for you. At home, when you have no one to help you, we are just the right team to call. You can let us do anything under the heat of the sun.
We work with different types of businesses from small to medium sized businesses. Offering the best range of handyman services, we have become West London's number one company that they can truly rely on at any time of the day.
Whether you need help on simple carpentry or decorative painting at your house, our handyman can help you deal with your needs. They can undergo all types of job that you would require them to do giving you a guarantee of complete satisfaction.
West London Reliable Handyman - Call 020-3322-6025.
Jack of all trades West Central London, Handyman Services Jack of all trades E14 Handyman Lower Sydenham man of all work in SE2 domestic repairs.
All your concerns will be taken care of as soon as possible. Even if it takes too much work, we will professionally deal with it for your complete satisfaction. We are the very persons you can rely on at all times.
If you value your time so much, then let us do the job for your very own convenience. Call at 020-3322-6025 today and know more about what we can exactly do for you.
Always consider it done when you get to work with our handymen. Their all-around expertise in doing minor jobs for you is certainly one of the best. You will never have to look much further with our professional team of handymen.
If you are unhappy with the results, we can always redo it for your satisfaction. We do not want to leave you unhappy and unsatisfied. It is always our goal to give the best service there is.
If you wish to have a same day service that guarantees your complete satisfaction, give us a call at 020-3322-6025 or send us an email. In no time, all your problems will be solved.