People's first choice in town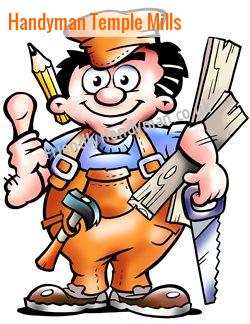 You can always have both affordability and quality all at the same time with Friendly Handyman. Our handyman services are competitively priced to suit your budget. No matter what service you may need, we can all take care of it with high quality.
Choosing the best for your convenience and satisfaction?
We pride ourselves for the excellent services that we provide E15, Temple Mills for several years already. For responding promptly from the first time of call, we have gained the trust and confidence of our customers. Being fully equipped and skilled, we are confident enough that we would be able to satisfy our customers completely from start to finish.
Why is it advantageous to choose us?
Friendly staffs
Reliable services
Affordable rates
Quick response
Organised workmanship
Efficient solutions
We can help you get things in order by doing series of repairs and maintenance. Call us today at 020-3322-6025 for a quality service that you always wanted.
Professionally satisfying you all year round
Maintenance services are usually the ones that most offices need. That is why we do arrange this kind of tasks for you on a regular basis so as to give you more convenience and comfort. Every service we provide is customised to fit your needs.
For the best service that is sure to give you the satisfaction that you deserve, have your errands done by our professional handyman. With us, all your problems will be gone making life much easier for you and your family.
If you are looking for a company that constantly adheres to the established standards, then we are just the right team to have. When we do our tasks, we always make sure that everything is at its highest standards for your satisfaction and peace of mind.
Doing the following odd jobs for your convenience: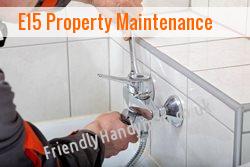 Putting up of shelves
Blinds and curtains fitting
Hanging mirrors and pictures
Flat pack furniture E15
LCD and plasma TV installation
Moving heavy furniture and other items
Quality services at a very affordable rate
There is no better team you can rely on when it comes to your residential needs. WE have a complete range of handyman services that you can choose from. We can even customise services just for you. So why waste resources with others when you can have everything done at a very affordable price?
It is only with Temple Mills's best that you can experience high quality handyman services that will totally satisfy all your needs. You need not to spend much. At a very affordable rate, you can have the very service that you need no matter how simple or complicated the task could be.
Our handymen are widely known for their expertise in doing all around fixes both for residential and commercial needs. They have the ability and competence to accomplish the job that you would require them to do in just a short time.
Temple Mills domestic repairs - Call 020-3322-6025.
renovation experts East London, Friendly Handyman in EC2 renovation experts Cricklewood NW2 DIY expert SE14 Upper Holloway N19 Handymen Engineers Catford Friendly Handyman CR0 odd-job man Friendly Handyman Handyman Services NW10 Hatton Hayes Jack of all trades E3 Handyman N14 domestic repairs renovation experts in N17 SE1 domestic repairs W6 Reliable Handyman Jack of all trades Tottenham W2 Reliable Handyman Local Handyman in Mansion House.
Our handyman can deal with all types of work that you require. You do not need to call someone else and suffer the hassle of doing things yourself. With us, you will always have the convenience that you are looking for.
Cannot find the exact service you would like us to do for you? Please do not hesitate to give us a call at 020-3322-6025. We can help you with the very service that you just need.
For an all-around service provider that offers solutions at a very reasonable price, have our professional handyman work for you. Everything you need to be done is surely under our handyman's control.
We always give special attention to every job that we do. As a result, we constantly satisfy our clients. Our workmanship guarantees the quality and excellence of every work undertaken.
For a residential or commercial errand that needs to be done instantly, call us right away at 020-3322-6025 or send us an email. Services at its highest standard are always ensured.