Giving you a great experience at all times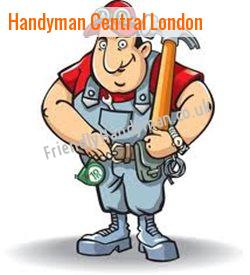 If you are looking for someone to help you deal with simple jobs at home, our handyman at Friendly Handyman could then be the best choice for you. Our skills and knowledge are unparalleled giving you the satisfaction that you need.
Truly competent to take care of your needs
From simple household chores to major improvements, our WC, EC handyman is the right person that you can call. Doing all types of job for everyone's convenience and satisfaction, Central London would no longer have a hard time dealing with these certain chores.
Why we are the best?
Prompt response at all times
24/7 availability
Very professional
Fine craftsmanship
Reasonable rates
Satisfaction guaranteed
Let us do the jobs that you can't do. Contact us today at 020-3322-6025 for more inquiries about our wide range of services.
Ensuring you get the best out of your money
All the jobs we do are done in a very unobtrusive manner. We understand how much you value your time and privacy. That is why we can guarantee you that we will finish the job in no time for your satisfaction.
There is no better team to help you with your needs other than our reliable and professional group of handymen. We are very much dedicated in giving you the convenience that you need and the satisfaction that you have always wanted.
We value your time so much. That is why we make sure that we do not cause you any delay by starting on time and finishing it on time as well. Everything is done quickly without compromising its quality for your satisfaction.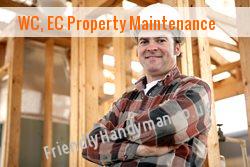 Plumbing services we can specifically cater for you:
Repairing leaks on taps and pipes
Clearing internal waste pipes
Fixing toilet cisterns WC, EC
Washing machine and dishwasher installation
Replacing radiators
Garden taps installation
Beating the traffic for a quick response
Excellent customer service is always apparent in our every transaction, which is the very reason why we have become the first choice of every household. Professionalism and efficient solutions are always guaranteed by our handymen.
From simple dripping of tap to dangerous wires that run across the floor, we are the just right team you can call to help. We do our job unobtrusively so as not to disrupt your employees in their day to day transactions. With us, Central London will no longer have problems dealing with all types of minor damages in their business establishments.
We do not just assist you on your installation and other minor jobs. We also provide maintenance and repair services for your convenience. With our skilful handyman, you will never have to deal with your problems much longer.
Central London minor renovations - Call 020-3322-6025.
renovation experts North West London, E10 Friendly Handyman Handymen Engineers N14 man of all work in EC1 Southwark SE1 Friendly Handyman Handyman Services Stepney Old Kent Road SE1 minor renovations in Wallington man of all work in Commercial Road Handyman in Somers Town Handymen Engineers WC2 SE3 Friendly Handyman.
No job is too simple or too complex for us to handle. All your requirements will be dealt with professionally. You can always count on us no matter what type of work that you may require from us.
If you value your time so much, then let us do the job for your very own convenience. Call at 020-3322-6025 today and know more about what we can exactly do for you.
Every work done by our handyman is 100% guaranteed. Being a fully licensed and insured company, we can assure you that all things will be done professionally at your own pace and convenience.
You can always depend on our works no matter what job you may require us to do. With honest and reliable handymen, your choice of having us will bear great results.
For a residential or commercial errand that needs to be done instantly, call us right away at 020-3322-6025 or send us an email. Services at its highest standard are always ensured.