Dealing with all your needs professionally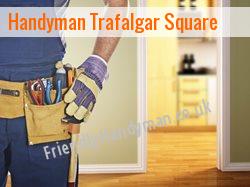 For quick and efficient services that are truly unmatched, have our team of handymen at Friendly Handyman. You will surely have the best service that could guarantee your complete satisfaction and a total peace of mind.
Your knowledgeable professionals to help you at all times
Our experience in this field is truly unmatched. Serving WC2, Trafalgar Square for many years already, we have proven to its every household that with our skills and experience, they will truly never go wrong. We can make your dreams come true, apart from the mere promises that other typical service providers give.
Why let us do the job?
Quick response
Organised workmanship
Reliable services
Friendly staffs
Efficient solutions
Affordable rates
Do not hesitate to call us at 020-3322-6025 to inquire about our handyman services. With our license and insurance, you can always be safe with us.
Taking the stress out of small jobs at home
We are a fully licensed and insured company offering handyman services to commercial entities also. With our vast knowledge and skills, anything under the sun is done professionally at all times.
If you need help with simple installation or a minor painting job, our handyman could probably be of any help to you. With their skills and experience in doing all types of jobs, you will surely not regret having them to work for you.
No matter how simple or complicated the job could be, we will make sure that it will be done at the highest possible standards. You can always refer your concerns with our professionals and they will act upon it as soon as possible.
Services we excellently provide: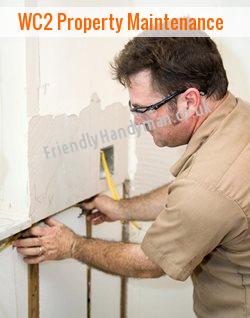 Odd jobs WC2
PAT Testing
Plumbing
Electrical
Decorating
Refurbishment
Offering the best for your peace of mind
We are also the very team you can trust when it comes to quality home improvement jobs. Our handyman can help you get the results that you wish at a very affordable price. You can never find a better company other than us.
Taking pride of the workmanship that ensures every job is done right the first time, we have become Trafalgar Square's first choice in all types of handyman services. From small retail stores to restaurants, we are just the perfect team of professionals that business owners could surely rely on.
If you have no one to help you fix your problems, we are just a phone call away. Our handymen are always available round the clock offering a wide range of services that you can choose from. With us, you will never have to worry anymore.
Trafalgar Square odd-job man - Call 020-3322-6025.
Friendly Handyman London, minor renovations E14 Friendly Handyman W2 South Ealing W5 DIY expert Stoke Newington N16 odd-job man Friendly Handyman Property Maintenance Elephant & Castle minor renovations Handyman Services in Chalk Farm Local Handyman Knightsbridge SW1 N5 man of all work renovation experts Handyman Services man of all work Local Handyman Wembley odd-job man Brixton SW2 N19 Lower Sydenham man of all work Local Handyman N17 Jack of all trades.
We can do anything under the heat of the sun. Our handyman can take care of anything that you wish them to do. That is why all your worries will be gone when you get to work with our professionals.
If you are looking for a company offering services at a very affordable price, you have just come to the right place. Contact us at 020-3322-6025 for a quick response from our team.
Even if it is a simple job or a complicated one, our handyman can excellently provide services to help you with your needs. It is our topmost priority to give you the best result there is guaranteeing your total satisfaction at all times.
Our team is established only for one purpose and that is to satisfy you. We have been doing quality services to ensure that you will always get the best results from our excellent workmanship.
We can help you make things better and more convenient for you. Call us at 020-3322-6025 or fill out the form today for your complete satisfaction and a total peace of mind.