Professionally making your lives better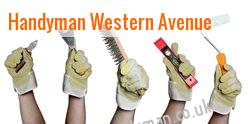 Friendly Handyman is Western Avenue's favourite. All our handyman are very much reliable on all types of work that need to be done like, carpentry, painting, plumbing, some electrical jobs and gardening. The customers are always satisfied with us.
Choosing the best for your convenience and satisfaction?
If you are looking for a carpenter to fix your broken chairs or searching for a good plumber to repair the leaks, then look no further. Our handyman W3 can take care all of it. Providing the widest range of domestic services in Western Avenue, you would surely experience total satisfaction without having to spend much.
Why we are undisputed?
Excellent skills and workmanship
Competitive prices
Several years of experience
Offers services to both domestic and commercial entity
Wide range of services
Customising service just for you
We can help you deal with your household and small commercial errands. Call us at 020-3322-6025 for the best service that is second to none.
Undefeated team of professional handymen
For your convenience and satisfaction, we can arrange with you a job on a regular basis. Our handyman will never disappoint you and give you what is truly due for you. At a minimum disruption, you can have the best and high quality services at your workplace.
There is no better team to help you with your needs other than our reliable and professional group of handymen. We are very much dedicated in giving you the convenience that you need and the satisfaction that you have always wanted.
If you are looking for a company that constantly adheres to the established standards, then we are just the right team to have. When we do our tasks, we always make sure that everything is at its highest standards for your satisfaction and peace of mind.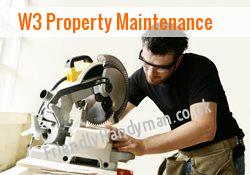 Plumbing services we can specifically cater for you:
Repairing leaks on taps and pipes
Clearing internal waste pipes
Fixing toilet cisterns W3
Washing machine and dishwasher installation
Replacing radiators
Garden taps installation
Widely known for excellent works
For an efficient and affordable handyman services, ours are simply the best. No one could ever much the excellence and professionalism that we have given to our domestic customers. You can rely on our team at all times.
Make your stores and establishments aesthetically good to look at. Impress your customers through our excellent quality services. We are here to help Western Avenue experience a different kind of service that is truly worth the money that they spend for.
Whether you need help on simple carpentry or decorative painting at your house, our handyman can help you deal with your needs. They can undergo all types of job that you would require them to do giving you a guarantee of complete satisfaction.
Western Avenue man of all work - Call 020-3322-6025.
Handyman Services London, Handyman Coulsdon man of all work Brook Green W14 Southgate N14 DIY expert Property Maintenance N19 Upper Sydenham Handymen Engineers Handymen Engineers in Eastcote Handyman Kingston upon Thames.
When we do our job, we always start and finish it on time. We will never cause you any delay because we understand how much you value your time. With us, you can get things done right on time with quality.
For a highly skilled and knowledgeable team of handymen, contact us today at 020-3322-6025. Excellence is always given with high regard in every job done.
Not only that our handymen are fully licensed and insured. They are also guaranteed to be fully equipped at all times to carry out their tasks well. No matter what type of job that you would require, they can surely live up to your expectations.
Customer satisfaction is our topmost priority. If you require us to do a different kind of task, we can customise it just for you. We always want to make things convenient for you.
In no time, we can help you fix everything at your place. Call us at 020-3322-6025 or fill out the form for a prompt response on all your small scale jobs.