Your complete solution for your home and office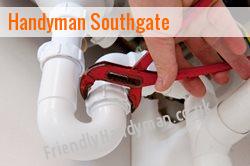 All our handymen at Friendly Handyman are fully licensed and insured. With a wealth of experience, everything is done at the highest possible standards. From small to medium-sized jobs, you will surely not look much further.
Professionally taking care of small jobs for you
We pride ourselves for the excellent services that we provide N14, Southgate for several years already. For responding promptly from the first time of call, we have gained the trust and confidence of our customers. Being fully equipped and skilled, we are confident enough that we would be able to satisfy our customers completely from start to finish.
Why let us do the job?
Quick response
Organised workmanship
Reliable services
Friendly staffs
Efficient solutions
Affordable rates
Without compromising the quality, we can give you the best service only at a very low price. Contact us at 020-3322-6025 for more details about our services.
Finest workmanship that satisfies everybody
We are always at your service to render quality solutions for all your office errands. Time is very precious to you which the very reason why we always promptly respond to your needs and do things unobtrusively in order not to hurdle your transactions.
For the best service that is sure to give you the satisfaction that you deserve, have your errands done by our professional handyman. With us, all your problems will be gone making life much easier for you and your family.
As much as possible, we leave no room for mistakes. But if there are instances wherein you are not satisfied with our job, we can always redo it just for you. We will show you that we are indeed doing everything just to make you fully satisfied.
Doing decorative jobs for your satisfaction: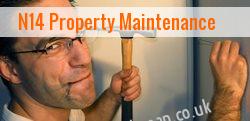 Woodwork painting
Painting and tiling
Plastering walls and ceilings N14
Filling cracks and holes
Re-sealing
Repairing old grout
Widely known for excellent works
We are a reliable and trustworthy handyman company doing wide range of services for every household. No job is too small or too big. What we are after is to satisfy you completely and provide convenience to you at all times.
Taking pride of the workmanship that ensures every job is done right the first time, we have become Southgate's first choice in all types of handyman services. From small retail stores to restaurants, we are just the perfect team of professionals that business owners could surely rely on.
We can take all the worries away from you. With our professional handyman, all your required jobs will be carried out efficiently at a very affordable price. Who says you can't have quality and affordability all at the same time?
Southgate - Call 020-3322-6025.
odd-job man London, odd-job man in Ladywell Handymen Engineers in Temple Mills Handymen Engineers SM4 man of all work in E14 SW20 man of all work odd-job man EC3 Friendly Handyman Harrow WC2 odd-job man Handymen Engineers in Westminster minor renovations SM6 Friendly Handyman Jack of all trades in DA8 Handyman Services in E16 Handyman Services Wimbledon Common SW15 Arkley Handyman Westbourne Park W10 Reliable Handyman New Cross SE14 Friendly Handyman domestic repairs in Lower Clapton.
For you, we will resolve all your domestic and commercial problems as quickly as possible. We do not want to keep you waiting all day. With us, you will always have the convenience that you deserve.
We can guarantee you with a complete satisfaction through our excellent workmanship. Call us at 020-3322-6025 right away to get things done right this instance.
We are the number one handyman company offering services that takes away the problems of all our customers. Even in just a short notice, we can be there in no time to provide the best service that guarantees satisfaction.
We hate to cause you any delay. That is why as much as possible, we fix things on time. When we receive your call, we will immediately attend to your needs so as not to prolong your agony.
If you wish to have a same day service that guarantees your complete satisfaction, give us a call at 020-3322-6025 or send us an email. In no time, all your problems will be solved.