Travelling anywhere to reach your end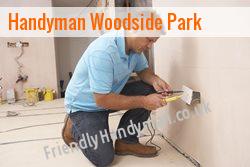 You can always have both affordability and quality all at the same time with Friendly Handyman. Our handyman services are competitively priced to suit your budget. No matter what service you may need, we can all take care of it with high quality.
Your knowledgeable professionals to help you at all times
Improve the value of your property with us. We offer the most complete domestic services that you would require. From interior to exterior renovations N12, we are just the perfect team who can help you. In Woodside Park, no one does a better job other than our team.
Why we have a growing base of clients?
Wide range of services to offer
No delays
Fully licensed and insured
Satisfaction is always guaranteed
Competitively priced
Highly skilled and knowledgeable handymen
We could be the best choice to have when it comes to small scale jobs. Contact us at 020-3322-6025 and we can guarantee our works 100%.
Undefeated team of professional handymen
Every handyman we have is an expert and adept in dealing with all types of jobs which includes the commercial ones. Whatever jobs you may require him to do, he can finish it on time unobtrusively.
Our handyman can always give you an assurance that they will never leave your place unless everything is perfectly fixed. We are indeed professional to look up to all your needs and a caring company as well to provide comfort and convenience to you.
Letting you wait for a long period of time is not our practice. We always make sure that the moment we receive your call, we will respond to you quickly. We are the very persons you can rely on most especially on your emergencies.
Plumbing jobs we can handle: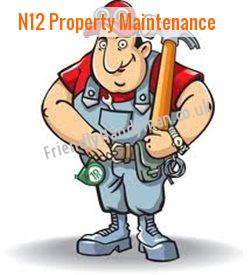 Fixing Toilet Problems
Fixing leaking taps and pipes
Toilet, Sink or Urinal Unblocking N12
Installing a Dishwasher or Washing Machine
Bath or Shower Screen Fitting
Towel Rail or Radiator Replacement
Making things different for you
Most problems arise at home. That is why we are here to extend a helping hand on all your household chores that needs to be done with excellent skills and knowledge. We can help you on your routine repairs and maintenance tasks professionally.
To ensure that you get the best service that satisfies you completely, contact Woodside Park's number one handyman. With us, repairs and maintenance could be done at the highest possible standards without having to spend much. We are the very team you can definitely rely on at all times.
For your emergencies at home, there is no better professional to call but our highly skilled and knowledgeable handyman. Whether you require a plumbing or electrical job to be done, they know exactly what to do just to fix the very problem that you have.
Woodside Park domestic repairs - Call 020-3322-6025.
London, St Johns Jack of all trades W14 renovation experts DIY expert in South Norwood odd-job man in SE26 domestic repairs SE3 Property Maintenance Green Park SW1 Property Maintenance.
We have a team of skilled and knowledgeable handymen who always give their full dedication in helping every household. Our professionals will be there as quickly as possible to take away all your worries instantly.
We can guarantee you with a complete satisfaction through our excellent workmanship. Call us at 020-3322-6025 right away to get things done right this instance.
Even if it is a simple job or a complicated one, our handyman can excellently provide services to help you with your needs. It is our topmost priority to give you the best result there is guaranteeing your total satisfaction at all times.
You will never regret working with us because our team are highly skilled, knowledgeable, and very friendly. All your jobs are done at the highest standard giving you the best value for your money.
In no time, we can help you fix everything at your place. Call us at 020-3322-6025 or fill out the form for a prompt response on all your small scale jobs.