An all-around service provider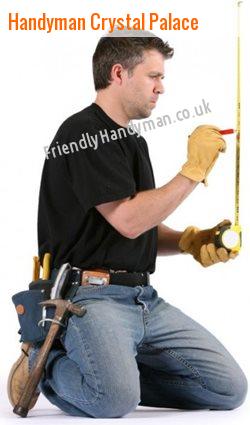 For quick and efficient services that are truly unmatched, have our team of handymen at Friendly Handyman. You will surely have the best service that could guarantee your complete satisfaction and a total peace of mind.
First rated services for your total satisfaction
Offering the most complete domestic services for Crystal Palace, no one would ever have to look much further other than our team. Our SE26 professionals understand your needs better than those other typical service providers. In just one single call, you can have the solutions that you just need for all your residential repairs and maintenance needs.
Few advantages you could have with us:
Caters emergencies
Fully insured
Licensed and accredited
Guaranteed services
Fully dedicated professionals
Honest pricing
Discuss your requirements with our handyman by simply calling us at 020-3322-6025. With us, you can save both time and money all the time.
Looking for the right man to help you?
Maintenance services are usually the ones that most offices need. That is why we do arrange this kind of tasks for you on a regular basis so as to give you more convenience and comfort. Every service we provide is customised to fit your needs.
Accomplishing your requirements has always been our mission. At a very affordable price, we can give you the best service that would surely satisfy all your needs. With us, you don't need to look much further.
It is your satisfaction that keeps us going. Thus in every job that we do, we always ensure that you get the best of what we have to offer. Whatever you require from us, we will handle it excellently for your total satisfaction.
Decorating jobs we offer: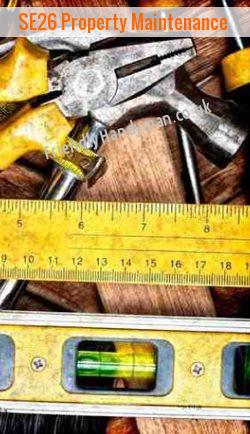 Painting and tiling
Filling cracks and holes
Repairing old grout
Plastering walls and ceilings SE26
Re-sealing
Woodwork painting
Making things different for you
Whether you require a simple or a complicated job, our handyman can take care of it just for you. At home, when you have no one to help you, we are just the right team to call. You can let us do anything under the heat of the sun.
With the competition today in the market, it is important to make your place aesthetically good to give you an edge over your other competitors. That is why we are here to help you maintain your stores and offices so that you will not give your valued customers a wrong impression. With Crystal Palace's best, you will never regret choosing us.
Having full experience in effectively carrying out simple household and commercial jobs, our handyman is sure to give you the satisfaction that you truly deserve. With the right skills and knowledge, you will never regret having our team to work for you.
Crystal Palace Jack of all trades - Call 020-3322-6025.
Reliable Handyman North East London, Herne Hill Property Maintenance Kenley CR8 odd-job man Reliable Handyman Enfield Chase odd-job man Hadley Wood EN4 Handymen Engineers W13 Handyman Reliable Handyman Friendly Handyman in KT6 Hatton minor renovations E8 renovation experts Friendly Handyman SE1 Barking domestic repairs.
No job is too simple or too complex for us to handle. All your requirements will be dealt with professionally. You can always count on us no matter what type of work that you may require from us.
Let us know how we can be of any help to you by simply calling us at 020-3322-6025. Our handymen are always available 24/7 to render excellent services to your end.
Every work done by our handyman is 100% guaranteed. Being a fully licensed and insured company, we can assure you that all things will be done professionally at your own pace and convenience.
All jobs are done excellently and professionally. Your concerns are given with high regard giving you a guarantee that every detail will be done accordingly.
Let us help you live more comfortable than ever. We can help you fix your problems. Call us anytime at 020-3322-6025 or send us an email. Our handyman will always be there for your convenience.