An all-around service provider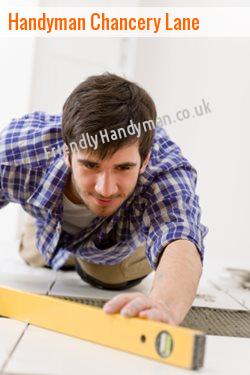 We, at Friendly Handyman, are always here to help you on all your needs. From simple carpentry, plumbing and decorating to delicate electrical works, we can all provide it just for you. You will never regret having us to be part of the fulfilment of your dreams.
Making your satisfaction as our number one goal
For home repairs and WC2 domestic maintenance needs, we are the very company that you can trust in Chancery Lane. We have the widest range of home repair services which are definitely cost effective for every household. You do not have to call a carpenter, a plumber or an electrician because our handyman can do it all.
Why choose our handyman?
Wealth of experience
Reliable handymen
Completes job on time
Comprehensive array of services
Qualified professionals
Reasonable and competitive rates
For a quality job on repairs and maintenance, our handyman is the perfect professional to call. Contact us at 020-3322-6025 and get things done instantly.
Want a help on the most impossible job?
We also cater the needs of our commercial customers most especially when it comes to repairs and maintenance. We are the very team who can promptly respond to their calls so as to ensure that we will not cause them any trouble or delay.
When you think you can no longer spare time to fix the damages at your place, our handyman is just right here available to be of any help to you. Anything under the heat of the sun is carried out excellently just for you.
Letting you wait for a long period of time is not our practice. We always make sure that the moment we receive your call, we will respond to you quickly. We are the very persons you can rely on most especially on your emergencies.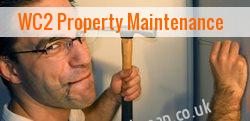 Plumbing services we can specifically cater for you:
Repairing leaks on taps and pipes
Clearing internal waste pipes
Fixing toilet cisterns WC2
Washing machine and dishwasher installation
Replacing radiators
Garden taps installation
Round the clock solution to your needs
You do not have to spend much just to fix things at your homes. For a very reasonable rate, our handyman can take care all of it just for you. You can always rely with our team because their excellent workmanship will never disappoint you.
When it comes to excellent commercial handyman services, nothing beats our team. You do not need to require individual specialists to take care of your various needs. With Chancery Lane's best, you sure have someone you can certainly rely on.
If you have no one to help you fix your problems, we are just a phone call away. Our handymen are always available round the clock offering a wide range of services that you can choose from. With us, you will never have to worry anymore.
Chancery Lane Reliable Handyman - Call 020-3322-6025.
domestic repairs South London, Bellingham Property Maintenance SE18 domestic repairs Kenwood House Handyman in Neasden Property Maintenance in SW18 Reliable Handyman in RM14 Reliable Handyman NW, NW1... Jack of all trades in Bermondsey Reliable Handyman Hampstead Garden Suburb N2 Friendly Handyman in Ladbroke Grove.
We can do anything under the heat of the sun. Our handyman can take care of anything that you wish them to do. That is why all your worries will be gone when you get to work with our professionals.
If you value your time so much, then let us do the job for your very own convenience. Call at 020-3322-6025 today and know more about what we can exactly do for you.
For a reliable team that can help you on all types of job from plumbing to electrical works or carpentry and decorative jobs, our handymen are the right persons to call. All your needs will be professionally handled by our experts.
With us you can have a different kind of experience that you cannot have with others. Even if you require a difficult job, it is our goal to satisfy you and provide convenience to everybody.
Let us help you live more comfortable than ever. We can help you fix your problems. Call us anytime at 020-3322-6025 or send us an email. Our handyman will always be there for your convenience.