Highly recognised for all types of work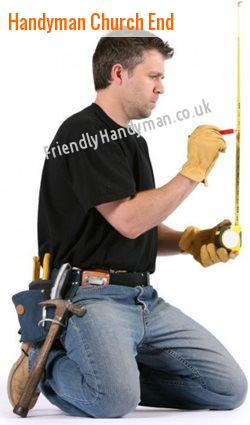 No one does a better all-around service other than our reliable and professional handyman. The solutions that we provide are simply cost-effective. That is why everything that you need is exceptionally provided only at Friendly Handyman.
The kind of service that surprises you to satisfaction
Our experience in domestic handyman services NW10 has made us the most trusted team of experts in Church End. Whatever service you may require, we can surely help you. Just name it and we will do it for you. At a price you can afford, you no longer need to search for a much better deal.
Few advantages you could have with us:
Caters emergencies
Fully insured
Licensed and accredited
Guaranteed services
Fully dedicated professionals
Honest pricing
Discuss your requirements with our handyman by simply calling us at 020-3322-6025. With us, you can save both time and money all the time.
Providing everything for your convenience
Arranging tasks on a regular basis works well for most of our commercial customers. They can have everything ensured at your very convenience. Services are customised to suit all your needs.
Need an immediate help? Our all-around handyman can help surely help you. With their skills and knowledge in basic carpentry, plumbing, electrical and painting, all that needs to be done will surely be taken care of by our professionals.
We always keep our focus on our work in order to ensure good results. In this way, we can guarantee our customers their full satisfaction at all times. With us, our customers will always have the first class services that are second to none.
Decorating jobs we offer: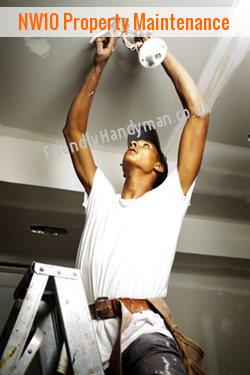 Painting and tiling
Filling cracks and holes
Repairing old grout
Plastering walls and ceilings NW10
Re-sealing
Woodwork painting
Accommodating anything for you
We have the very skills to deal with your home improvement projects. Our handymen are well adept and knowledgeable to undertake these tasks that you require. With quality workmanship, you will never have to look much further.
It is only with Church End's best that you can experience high quality handyman services that will totally satisfy all your needs. You need not to spend much. At a very affordable rate, you can have the very service that you need no matter how simple or complicated the task could be.
If you are worrying too much about your household errands that need to be done right away, we can help you with that. Our handyman can professionally fix your problems and help you with all types of errands at a very affordable price.
Church End Handyman - Call 020-3322-6025.
Property Maintenance North London, Newham Handyman Queens Road Handyman Handymen Engineers N2 DIY expert NW10 Handyman Services Bickley BR1 Knockholt Station domestic repairs minor renovations RM13 odd-job man in HA5 in Kensal Rise renovation experts Muswell Hill N2 man of all work in E3 Handymen Engineers in SW20.
We have a team of skilled and knowledgeable handymen who always give their full dedication in helping every household. Our professionals will be there as quickly as possible to take away all your worries instantly.
For a highly skilled and knowledgeable team of handymen, contact us today at 020-3322-6025. Excellence is always given with high regard in every job done.
Not only that our handymen are fully licensed and insured. They are also guaranteed to be fully equipped at all times to carry out their tasks well. No matter what type of job that you would require, they can surely live up to your expectations.
It is our goal to keep you happy at all times. If ever you are unsatisfied, we can always redo it. The important thing is we have made you happy and completely satisfied as well.
If you want to have a quality service that does not cost much, discuss your requirements with our handyman by simply calling us at 020-3322-6025 or filling the form. Quality service can always go hand in hand with affordability.