Your complete solution for your home and office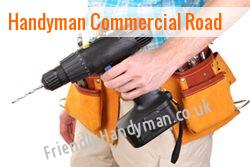 There is always a solution to everyone's problem. By just calling our highly skilled and knowledgeable handyman, all your worries would surely be gone. With our quality services at Friendly Handyman, you will never have to look for other service providers.
Who says you can't have everything in just one call?
For the most fully equipped and trained team of professional handymen E1, we are just the perfect company that you can call. Taking pride of the complete range of services that we offer, we have been the number one team that Commercial Road truly trusts.
Our advantages over other companies:
Fast and organised in every task
Always on time
Keeps you on track on our services
Utmost care on all types of work
Excellent customer service
Services that are competitively priced
We are the only ones you can rely on when it comes to quick and effective service. Call us at 020-3322-6025 for the kind of service that you urgently need.
Dependable individuals who are truly professional
We are always at your service to render quality solutions for all your office errands. Time is very precious to you which the very reason why we always promptly respond to your needs and do things unobtrusively in order not to hurdle your transactions.
Whether you need help at home or in any business establishment, we are just the right team who can help you. Our handymen always make sure that everything will be done excellently to provide you with the total satisfaction that you deserve.
Letting you wait for a long period of time is not our practice. We always make sure that the moment we receive your call, we will respond to you quickly. We are the very persons you can rely on most especially on your emergencies.
Plumbing jobs we can handle: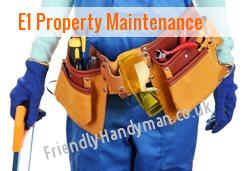 Fixing Toilet Problems
Fixing leaking taps and pipes
Toilet, Sink or Urinal Unblocking E1
Installing a Dishwasher or Washing Machine
Bath or Shower Screen Fitting
Towel Rail or Radiator Replacement
Giving full effort for your satisfaction
Excellent customer service is always apparent in our every transaction, which is the very reason why we have become the first choice of every household. Professionalism and efficient solutions are always guaranteed by our handymen.
With the competition today in the market, it is important to make your place aesthetically good to give you an edge over your other competitors. That is why we are here to help you maintain your stores and offices so that you will not give your valued customers a wrong impression. With Commercial Road's best, you will never regret choosing us.
If you have no one to help you fix your problems, we are just a phone call away. Our handymen are always available round the clock offering a wide range of services that you can choose from. With us, you will never have to worry anymore.
Commercial Road Handyman - Call 020-3322-6025.
domestic repairs Central London, minor renovations in Crayford domestic repairs in Smithfield odd-job man Lambeth SE11 Handymen Engineers Commercial Road E1 Victoria Park Property Maintenance Friendly Handyman Friendly Handyman Aldersgate Clapham SW4 man of all work Jack of all trades Harrow EN4 DIY expert man of all work Ealing W13 Local Handyman Mill Hill East Friendly Handyman Teddington.
We always do our best to give our clients convenience and satisfaction. Every problem you may have will be resolved in no time giving you an immediate relief. You do not have to worry about anything else anymore.
If you value your time so much, then let us do the job for your very own convenience. Call at 020-3322-6025 today and know more about what we can exactly do for you.
Need things to be done instantly at a very low price? Our handyman is the perfect solution to your needs. With their adequate skills and knowledge, they can help you get things done for your convenience.
Customer satisfaction is our topmost priority. If you require us to do a different kind of task, we can customise it just for you. We always want to make things convenient for you.
Get in touch with our handyman by simply calling us at 020-3322-6025 or sending us an email. We can help you fix and repair anything at your place.