Giving you a complete service on all your needs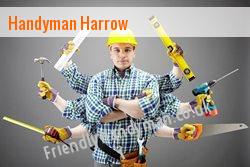 For quick and efficient services that are truly unmatched, have our team of handymen at Friendly Handyman. You will surely have the best service that could guarantee your complete satisfaction and a total peace of mind.
Finding someone who can help you from start to finish?
For home repairs and HA2 domestic maintenance needs, we are the very company that you can trust in Harrow. We have the widest range of home repair services which are definitely cost effective for every household. You do not have to call a carpenter, a plumber or an electrician because our handyman can do it all.
What people like about us:
Services that are competitively priced
Utmost care on all types of work
Excellent customer service
Always on time
Keeps you on track on all our services
Fast and organised in every task
We can help you get things in order by doing series of repairs and maintenance. Call us today at 020-3322-6025 for a quality service that you always wanted.
Taking the stress out of small jobs at home
Aside from our domestic customers, we also offer quality services to our commercial customers. We do property maintenance services, repairs and a lot more. Our team can help in you in a lot of things only at a minimum disruption.
We are the only company who can guarantee quality workmanship and a competitive price at the same time. With a large base of clients, we can prove that we have always satisfied our clients in all our undertakings.
Letting you wait for a long period of time is not our practice. We always make sure that the moment we receive your call, we will respond to you quickly. We are the very persons you can rely on most especially on your emergencies.
Doing the following odd jobs for your convenience: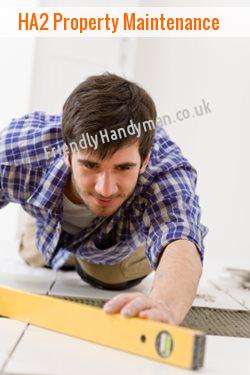 Putting up of shelves
Blinds and curtains fitting
Hanging mirrors and pictures
Flat pack furniture HA2
LCD and plasma TV installation
Moving heavy furniture and other items
Making everything easy for you
Excellent customer service is always apparent in our every transaction, which is the very reason why we have become the first choice of every household. Professionalism and efficient solutions are always guaranteed by our handymen.
We work with different types of businesses from small to medium sized businesses. Offering the best range of handyman services, we have become Harrow's number one company that they can truly rely on at any time of the day.
For your emergencies at home, there is no better professional to call but our highly skilled and knowledgeable handyman. Whether you require a plumbing or electrical job to be done, they know exactly what to do just to fix the very problem that you have.
Harrow - Call 020-3322-6025.
Friendly Handyman East Central London, Local Handyman DIY expert Friendly Handyman Manor House Belmont Handyman Services Local Handyman Little Ilford E12 Friendly Handyman odd-job man Woodford IG8 Canary Wharf E14 odd-job man.
Our ideals in keeping you happy and always satisfied are sincere and genuine. We always make sure that we would be able to give you the best service. All your jobs will be done excellently at all times.
Have your requirements be assessed by our handyman. Call us at 020-3322-6025 and know the exact service that you need for your specific requirements.
Always consider it done when you get to work with our handymen. Their all-around expertise in doing minor jobs for you is certainly one of the best. You will never have to look much further with our professional team of handymen.
We can give you a same day service to ensure that your emergencies will be given with a quick solution. Even if it is beyond the usual business hours, we can still offer our services to you. Remember that it is your satisfaction that we are most concerned of.
No one serves you better other than our professional team of handymen. Feel free to give us a call at 020-3322-6025 or send us an email to know more about our services.