Love doing the jobs you hate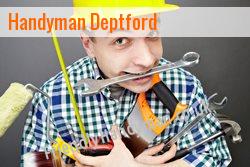 At Friendly Handyman, we can promise you that everything that our handyman does will be carried out at the highest possible standards. You will be secured that you are going to have the best value for money with us.
Making your satisfaction as our number one goal
We also cater emergency services for all Deptford's domestic needs. In just one call, we will promptly respond to your needs thus delivering the exact solution that you just need. Whether it is a painting job or a plumbing job SE14, we can have it all covered.
Why choose our handyman?
Wealth of experience
Reliable handymen
Completes job on time
Comprehensive array of services
Qualified professionals
Reasonable and competitive rates
We are the only ones you can rely on when it comes to quick and effective service. Call us at 020-3322-6025 for the kind of service that you urgently need.
Want a help on the most impossible job?
Reliable and professional services are what we are known for. Many commercial entities can attest on how we efficiently deal with their problems. We do it unobtrusively and effectively for their complete satisfaction.
When you think you can no longer spare time to fix the damages at your place, our handyman is just right here available to be of any help to you. Anything under the heat of the sun is carried out excellently just for you.
When you need someone you can trust with your errands, our handyman is the very person that you should hire. In no time, all your problems will be solved. We will not cause you any delay but instead be quick and fast in responding to all your needs.
What our handyman can do for you: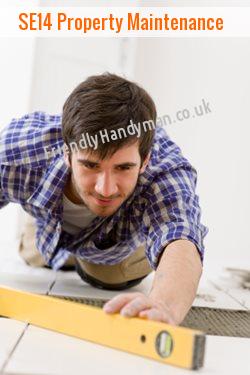 General Jobs
Decorating
Carpentry
Refurbishments SE14
Electrical
Plumbing
Making things different for you
We are also the very team you can trust when it comes to quality home improvement jobs. Our handyman can help you get the results that you wish at a very affordable price. You can never find a better company other than us.
We work with different types of businesses from small to medium sized businesses. Offering the best range of handyman services, we have become Deptford's number one company that they can truly rely on at any time of the day.
Leading you to a better and a more comfortable life with our professional and highly skilled handyman. From simple to a complicated task, our handymen will always give you the satisfaction that you truly deserve.
Deptford Jack of all trades - Call 020-3322-6025.
Friendly Handyman South London, Stockwell SW4 Friendly Handyman minor renovations Hanwell Jack of all trades DIY expert KT4 Handyman Services Bayswater W2 Handyman Services in EC2 Property Maintenance Clapham North SW4 Central London WC, EC Local Handyman Lambeth minor renovations man of all work BR1 Church End Handyman SE14 SE8 man of all work Putney Bridge Jack of all trades Golders Hill Park NW11 Friendly Handyman.
Our ideals in keeping you happy and always satisfied are sincere and genuine. We always make sure that we would be able to give you the best service. All your jobs will be done excellently at all times.
Let us know how we can be of any help to you by simply calling us at 020-3322-6025. Our handymen are always available 24/7 to render excellent services to your end.
We are widely known for our fully dedicated and reliable handyman. All your requirements will be done excellently giving you a complete peace of mind and a total satisfaction at all times. We are a company who truly cared for their customers.
If you have a different and unusual task that needs to be done, we can take care of it for you. We do personalised services for your convenience. Our customer's satisfaction always comes first.
Keeping you satisfied is our mission. So for a service that can always satisfy you, have it with our reliable handyman. Give us a call at 020-3322-6025 or send us an email for more details.