Giving you a great experience at all times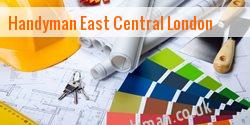 Friendly Handyman is an expert when it comes to giving the customer a total peace of mind. With skills and knowledge in all types of small scale jobs, you will surely have the best experience with our team.
Choosing the best for your convenience and satisfaction?
We deliver quality solutions to every household in East Central London, whether it involves plumbing, electrical or carpentry works. With a highly trained team of handymen EC, EC1..., all your residential needs will be taken care of professionally. Why look much further?
Why most people choose us?
Satisfaction is always guaranteed
Wide range of services to offer
Highly skilled and knowledgeable handymen
Fully licensed and insured
No delays
Competitively priced
For a quality job on repairs and maintenance, our handyman is the perfect professional to call. Contact us at 020-3322-6025 and get things done instantly.
Taking the stress out of small jobs at home
We are a fully licensed and insured company offering handyman services to commercial entities also. With our vast knowledge and skills, anything under the sun is done professionally at all times.
Fixing leaks and repairing your broken table would never be easy. That is why we are here to help you deal with your problems at your convenience. Our handymen are very much reliable to do all the things that are needed to be done at the highest standard.
After we are done with our work, we will always keep your place clean and tidy. We will never leave any mess that could cause stress on your part. As professionals, we will make sure that we give you what is due to you.
Doing the following odd jobs for your convenience: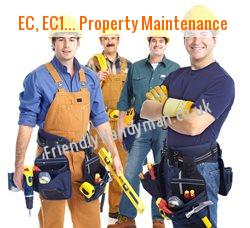 Putting up of shelves
Blinds and curtains fitting
Hanging mirrors and pictures
Flat pack furniture EC, EC1...
LCD and plasma TV installation
Moving heavy furniture and other items
Beating the traffic for a quick response
When the need on repair and maintenance arises, there is no better team that you can call other than our professional handyman. At home, do not entirely trust on your skills because it will only lead you to disaster. Hire a handyman to ensure everything.
It is only with East Central London's best that you can experience high quality handyman services that will totally satisfy all your needs. You need not to spend much. At a very affordable rate, you can have the very service that you need no matter how simple or complicated the task could be.
Our handymen are not just available for simple installation and other minor residential and commercial jobs. They are also very adept in doing repairs and maintenance. For your comfort and convenience, we will always make ourselves available 24/7.
East Central London Handyman Services - Call 020-3322-6025.
DIY expert North East London, Victoria Docks man of all work Croydon domestic repairs N20 Local Handyman Reliable Handyman Essex Road odd-job man Bounds Green N11 Handymen Engineers in SE27.
For you, we will resolve all your domestic and commercial problems as quickly as possible. We do not want to keep you waiting all day. With us, you will always have the convenience that you deserve.
For a complete customer satisfaction at your own convenience, get in touch with our professionals by giving us a call at 020-3322-6025. Our handyman will never disappoint you.
We are the number one handyman company offering services that takes away the problems of all our customers. Even in just a short notice, we can be there in no time to provide the best service that guarantees satisfaction.
Quick and fast service is always guaranteed by our handyman. Our team can solve all the problems you have leaving you totally satisfied with a peace of mind.
Trust only the company that is trusted by many. Fill out the form or call us at 020-3322-6025. Our handyman services will never let you down.