The kind of workmanship that could satisfy you completely
No one does a better all-around service other than our reliable and professional handyman. The solutions that we provide are simply cost-effective. That is why everything that you need is exceptionally provided only at Friendly Handyman.
Who says you can't have everything in just one call?
Whatever chore you may require us to do, just name it and we will take care of it. Being the most trusted handyman company in East Wickham, we endeavour to be consistent with the quality of work that we provide to all our customers. Gaining the trust and confidence of our customers is rewarding enough for us.
What we are most proud of:
Licensed and accredited
Fully insured
Honest pricing
Fully dedicated professionals
Caters emergencies
Guaranteed services
If you think you cannot do it, then let us do it for you. Contact us today at 020-3322-6025 to learn more about our efficient and excellent services.
Tailoring services that suit well for you
Aside from our domestic customers, we also offer quality services to our commercial customers. We do property maintenance services, repairs and a lot more. Our team can help in you in a lot of things only at a minimum disruption.
Our experience as a company has made us very much adept in dealing with all types of small scale jobs. With a multi-skilled handyman, who would ever have to look much further? Everything you need is perfectly handled by our professionals.
No matter how simple or complicated the job could be, we will make sure that it will be done at the highest possible standards. You can always refer your concerns with our professionals and they will act upon it as soon as possible.
Excellent workmanship on the following services: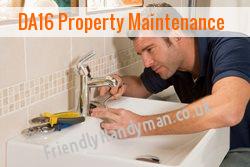 Remodelling of Basement
Remodelling of Kitchen DA16
Tile and Flooring
Carpentry
Electrical
Drywall Installation or Replacement
Your 24/7 dependable craftsmen
You do not have to spend much just to fix things at your homes. For a very reasonable rate, our handyman can take care all of it just for you. You can always rely with our team because their excellent workmanship will never disappoint you.
From simple dripping of tap to dangerous wires that run across the floor, we are the just right team you can call to help. We do our job unobtrusively so as not to disrupt your employees in their day to day transactions. With us, East Wickham will no longer have problems dealing with all types of minor damages in their business establishments.
Our handymen are widely known for their expertise in doing all around fixes both for residential and commercial needs. They have the ability and competence to accomplish the job that you would require them to do in just a short time.
East Wickham Handyman Services - Call 020-3322-6025.
minor renovations West London, Handymen Engineers W6 Handyman Services Bostall Woods DIY expert DIY expert Notting Hill Gate man of all work Handyman Services Rotherhithe Friendly Handyman in Palmers Green Handyman Services in SW5 Handyman Services West Ham Reliable Handyman in SE2 London Bridge SE1 renovation experts renovation experts Hampton Handyman Services Friendly Handyman.
We never leave our job unfinished. We always make sure that when we are done, there will be no more lags. From start to finish, we can guarantee that you will always be satisfied with our workmanship.
It is our utmost concern to satisfy every need that our customer has. So for an excellent workmanship that handles the job completely, call us today at 020-3322-6025.
Need things to be done instantly at a very low price? Our handyman is the perfect solution to your needs. With their adequate skills and knowledge, they can help you get things done for your convenience.
You can never find a better team who is fully dedicated in carrying out all types of work. Our handyman is sincere in keeping you satisfied at all times.
To find out more about our services and our team of qualified handyman, feel free to give us a call at 020-3322-6025 or fill out the form. We are always happy to serve you.