An all-around service provider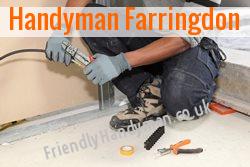 Why prolong your agony when you can have the best handyman to help you? Friendly Handyman is an established company offering quality services to all your needs. From small to medium sized jobs, everything is being taken cared of excellently.
Your knowledgeable professionals to help you at all times
We understand very well how handling repairs and maintenance could cause you much trouble most especially if you are constrained with time. That is why we are here to help. Offering the widest range of services for all your domestic needs, you do not have to hire multiple specialists just to get things done. In Farringdon, we are the most flexible team you can rely on.
What others say about us:
Excellent customer service
Utmost care on all types of work
Fast and organised in every task
Always on time
Services that are competitively priced
Keeps you on track on all our services
Our handyman service is undeniably your only resort to get things done right away. Call us at 020-3322-6025 for a quick response on your errands.
Dependable individuals who are truly professional
Not only that we cater services to the residential customers but also to different commercial entities. Quality services are always ensured. With us, you can have the best services only at a very minimum fuss.
Whether you need help at home or in any business establishment, we are just the right team who can help you. Our handymen always make sure that everything will be done excellently to provide you with the total satisfaction that you deserve.
It is your satisfaction that keeps us going. Thus in every job that we do, we always ensure that you get the best of what we have to offer. Whatever you require from us, we will handle it excellently for your total satisfaction.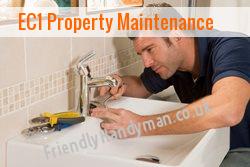 Plumbing services we can specifically cater for you:
Repairing leaks on taps and pipes
Clearing internal waste pipes
Fixing toilet cisterns EC1
Washing machine and dishwasher installation
Replacing radiators
Garden taps installation
Letting you live better than ever
Anything that needs to be done within your residential premises can be carried out by our professional and reliable handyman. You do not have to look for different service providers to help you with different kinds of tasks. With a handyman, all can be done in no time.
For a more productive business and a better image build up, we are just the perfect handyman team you can trust to help you with your repairs. With our training, skills and expertise, anything that needs to be done will be taken care of professionally. In Farringdon, when you speak of high quality service, we are just the very name that would ring a bell.
Our handymen are widely known for their expertise in doing all around fixes both for residential and commercial needs. They have the ability and competence to accomplish the job that you would require them to do in just a short time.
Farringdon Friendly Handyman - Call 020-3322-6025.
man of all work London, TW10 DIY expert Jack of all trades Handyman Services in Cudham Jack of all trades odd-job man in W12 minor renovations High Holborn WC1 Handyman Handyman Embankment WC2 Friendly Handyman in Lancaster Gate domestic repairs N6 renovation experts in W9 Woodford IG8 Friendly Handyman Local Handyman in E2 Property Maintenance in West Ham Handymen Engineers NW9 SW16 odd-job man.
Our ideals in keeping you happy and always satisfied are sincere and genuine. We always make sure that we would be able to give you the best service. All your jobs will be done excellently at all times.
Cannot find the exact service you would like us to do for you? Please do not hesitate to give us a call at 020-3322-6025. We can help you with the very service that you just need.
We always make sure that in every task that we do, excellence and professionalism is always present. With our experience and skills, we can always guarantee you with a complete satisfaction and a total peace of mind.
We can give you a same day service to ensure that your emergencies will be given with a quick solution. Even if it is beyond the usual business hours, we can still offer our services to you. Remember that it is your satisfaction that we are most concerned of.
We are always available to hear and answer your queries and concerns. Do not hesitate to give us call at 020-3322-6025 or fill in the form for more details about our services.