Dealing with all your needs professionally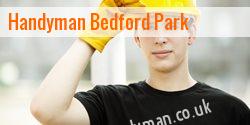 If you want things to get done as quickly as possible, then perhaps you could consider our handyman services at Friendly Handyman. With us, you will surely have the best service there is giving you the very convenience that you just need.
Choosing the best for your convenience and satisfaction?
Our experience in domestic handyman services W12 has made us the most trusted team of experts in Bedford Park. Whatever service you may require, we can surely help you. Just name it and we will do it for you. At a price you can afford, you no longer need to search for a much better deal.
Reasons for being on top:
Prompt response at all times
24/7 availability
Very professional
Satisfaction guaranteed
Fine craftsmanship
Reasonable rates
Discuss your requirements with our handyman by simply calling us at 020-3322-6025. With us, you can save both time and money all the time.
Professionally satisfying you all year round
Aside from our domestic customers, we also offer quality services to our commercial customers. We do property maintenance services, repairs and a lot more. Our team can help in you in a lot of things only at a minimum disruption.
In no time, we can solve all your household problems as well as the ones you encounter in the offices. Small jobs can be made simple and easy with the skills and expertise that our professional handyman have.
No matter how simple or complicated the job could be, we will make sure that it will be done at the highest possible standards. You can always refer your concerns with our professionals and they will act upon it as soon as possible.
Plumbing jobs we can handle: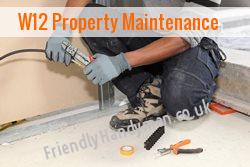 Fixing Toilet Problems
Fixing leaking taps and pipes
Toilet, Sink or Urinal Unblocking W12
Installing a Dishwasher or Washing Machine
Bath or Shower Screen Fitting
Towel Rail or Radiator Replacement
Making everything easy for you
Anything that needs to be done within your residential premises can be carried out by our professional and reliable handyman. You do not have to look for different service providers to help you with different kinds of tasks. With a handyman, all can be done in no time.
With the competition today in the market, it is important to make your place aesthetically good to give you an edge over your other competitors. That is why we are here to help you maintain your stores and offices so that you will not give your valued customers a wrong impression. With Bedford Park's best, you will never regret choosing us.
Our handyman are fully licensed, insured and definitely fully equipped. They are well adept in handling all types of jobs that you would require whether at home or in a business establishment. Your satisfaction and convenience is our utmost concern.
Bedford Park Local Handyman - Call 020-3322-6025.
Local Handyman London, man of all work Lancaster Gate odd-job man Handyman Services in EC1 NW1 Jack of all trades Ham House TW10 odd-job man Oakwood N14 Jack of all trades odd-job man in Lewisham Fleet Street EC4 man of all work Hackney Wick Friendly Handyman in N11 Local Handyman in N9 Wembley Friendly Handyman Finchley Road NW11 DIY expert E17 domestic repairs Jack of all trades SM5 Chiswick Park W4 minor renovations Friendly Handyman Vauxhall Bridge Reliable Handyman Addington W3 Handymen Engineers.
We can always take away the stress in you. After we have accomplished our work, we will then clean your place to keep it as tidy as possible. We take full responsibility of keeping your place organised after every task.
If you are looking for someone to help you with your small scale jobs, we are just the right team for you. Send us an email or call us at 020-3322-6025 for a specialised kind of service like no other.
Not only that our handymen are fully licensed and insured. They are also guaranteed to be fully equipped at all times to carry out their tasks well. No matter what type of job that you would require, they can surely live up to your expectations.
We hate to cause you any delay. That is why as much as possible, we fix things on time. When we receive your call, we will immediately attend to your needs so as not to prolong your agony.
Get in touch with our handyman by simply calling us at 020-3322-6025 or sending us an email. We can help you fix and repair anything at your place.