Doing almost anything for you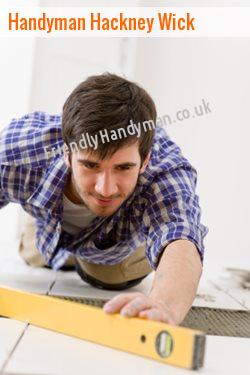 At Friendly Handyman, we can promise you that everything that our handyman does will be carried out at the highest possible standards. You will be secured that you are going to have the best value for money with us.
The kind of service that surprises you to satisfaction
We understand very well how handling repairs and maintenance could cause you much trouble most especially if you are constrained with time. That is why we are here to help. Offering the widest range of services for all your domestic needs, you do not have to hire multiple specialists just to get things done. In Hackney Wick, we are the most flexible team you can rely on.
What we are most proud of:
Licensed and accredited
Fully insured
Honest pricing
Fully dedicated professionals
Caters emergencies
Guaranteed services
Without compromising the quality, we can give you the best service only at a very low price. Contact us at 020-3322-6025 for more details about our services.
A total service for your total satisfaction
Maintenance services are usually the ones that most offices need. That is why we do arrange this kind of tasks for you on a regular basis so as to give you more convenience and comfort. Every service we provide is customised to fit your needs.
No one could ever match the excellence that our handyman provides to our customers. For several years, we have been in the service of people giving them the complete satisfaction that they truly deserve.
After we are done with our work, we will always keep your place clean and tidy. We will never leave any mess that could cause stress on your part. As professionals, we will make sure that we give you what is due to you.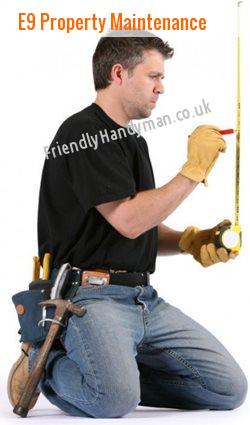 Plumbing services we can specifically cater for you:
Repairing leaks on taps and pipes
Clearing internal waste pipes
Fixing toilet cisterns E9
Washing machine and dishwasher installation
Replacing radiators
Garden taps installation
Round the clock solution to your needs
You may be too busy to handle domestic jobs by yourself. Thus, we are here to offer you convenience at a very affordable rate. We can help you get things done with a minimum fuss instantly. You do not have to look for somebody else.
Our tradesmen are not just some typical handyman you could hire in Hackney Wick. All of us are professionally trained to undergo the very services required of us. We strive to keep your business productive by giving you a time-saving solution and at the same time increase the value and image of your business to your market.
Specialising in repairs and maintenance, our handyman is the best professional you can call at times that you need a helping hand. We understand that doing repairs and maintenance is never easy. That is why we are here to give you the very assistance that you just need.
Hackney Wick Friendly Handyman - Call 020-3322-6025.
London, in W9 Harringay N4 Handyman Handyman Services W10 Handyman Services N17 Jack of all trades in EN5 Moorgate Handymen Engineers.
All your concerns will be taken care of as soon as possible. Even if it takes too much work, we will professionally deal with it for your complete satisfaction. We are the very persons you can rely on at all times.
We can help you with jobs that you hate to do. Contact us at 020-3322-6025 today for your queries and concerns.
All minor residential and commercial problems are carried out professionally by our skilled handyman. If you are looking for a fast and a competitively priced service, we are just the right team who can help you.
We take pride on the kind of customer service that our staffs provide. With that, more and more customers come to us for a quality service that is second to none.
For a service that offers great value for money, call us at 020-3322-6025 or send us an email. With us, you will never have to spend much just to have the best and reliable service.