Giving you a complete service on all your needs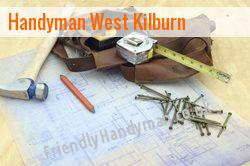 All our handymen at Friendly Handyman are fully licensed and insured. With a wealth of experience, everything is done at the highest possible standards. From small to medium-sized jobs, you will surely not look much further.
Fully dedicated to take care of everything for you
We deliver quality solutions to every household in West Kilburn, whether it involves plumbing, electrical or carpentry works. With a highly trained team of handymen W10, all your residential needs will be taken care of professionally. Why look much further?
What we are most proud of:
Licensed and accredited
Fully insured
Honest pricing
Fully dedicated professionals
Caters emergencies
Guaranteed services
Let us do the jobs that you can't do. Contact us today at 020-3322-6025 for more inquiries about our wide range of services.
Your one-stop shop for small scale jobs
We can help you let your business run smoothly while we do the jobs for you. With our professional handymen, solutions will be given at the best time possible without any disruption.
In no time, we can solve all your household problems as well as the ones you encounter in the offices. Small jobs can be made simple and easy with the skills and expertise that our professional handyman have.
Full commitment is always given by our professional handymen to all their undertakings. They always make sure that they would be able to satisfy you completely by delivering you the exact service that you always wanted.
We have the skills to do the following but are not limited to: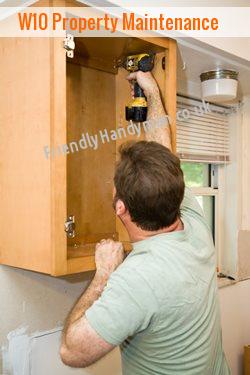 Carpentry
Plumbing
Painting
New Kitchens
Fences and Decks W10
Tile Flooring
Quality services at a very affordable rate
There are actually a lot of errands that needs to be done at home. If you have no time to spare in doing these by yourself, we can take care of it for you. We have the all the skills and competence to carry out any job that you would require us to do.
It is only with West Kilburn's best that you can experience high quality handyman services that will totally satisfy all your needs. You need not to spend much. At a very affordable rate, you can have the very service that you need no matter how simple or complicated the task could be.
Whether you need help on simple carpentry or decorative painting at your house, our handyman can help you deal with your needs. They can undergo all types of job that you would require them to do giving you a guarantee of complete satisfaction.
West Kilburn renovation experts - Call 020-3322-6025.
domestic repairs London, DIY expert Bickley Property Maintenance Great North Way NW4 Wandsworth Town SW18 Reliable Handyman domestic repairs Oakleigh Park CR0 Local Handyman SW8 Handyman Property Maintenance in Dartmouth Park Handyman Herne Hill SE24 DIY expert West Hendon NW9 minor renovations in Brompton.
We can do anything under the heat of the sun. Our handyman can take care of anything that you wish them to do. That is why all your worries will be gone when you get to work with our professionals.
Every job done at Friendly Handyman is always guaranteed 100%. So if you want to have your errands done excellently, give us a call at 020-3322-6025.
Every work done by our handyman is 100% guaranteed. Being a fully licensed and insured company, we can assure you that all things will be done professionally at your own pace and convenience.
You can never find a better team who is fully dedicated in carrying out all types of work. Our handyman is sincere in keeping you satisfied at all times.
For a service that offers great value for money, call us at 020-3322-6025 or send us an email. With us, you will never have to spend much just to have the best and reliable service.