Giving you an experience like no other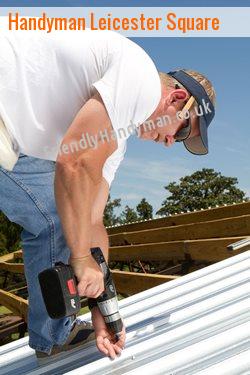 For quick and efficient services that are truly unmatched, have our team of handymen at Friendly Handyman. You will surely have the best service that could guarantee your complete satisfaction and a total peace of mind.
Fully dedicated to take care of everything for you
Offering the most complete domestic services for Leicester Square, no one would ever have to look much further other than our team. Our WC2 professionals understand your needs better than those other typical service providers. In just one single call, you can have the solutions that you just need for all your residential repairs and maintenance needs.
Reasons why we excel:
Completes job effectively
Affordable rates
Always on the go
Fully insured
Quick response
Professional team of handymen
If you think you cannot do it, then let us do it for you. Contact us today at 020-3322-6025 to learn more about our efficient and excellent services.
Reaching out far to be at your service
For your convenience and satisfaction, we can arrange with you a job on a regular basis. Our handyman will never disappoint you and give you what is truly due for you. At a minimum disruption, you can have the best and high quality services at your workplace.
We are a fully licensed and insured company offering quality handyman services in the entire Leicester Square. With expertise in doing small scale jobs to medium ones, we can guarantee that we will surely satisfy all your needs.
If you are looking for a company that constantly adheres to the established standards, then we are just the right team to have. When we do our tasks, we always make sure that everything is at its highest standards for your satisfaction and peace of mind.
What our handyman can do for you: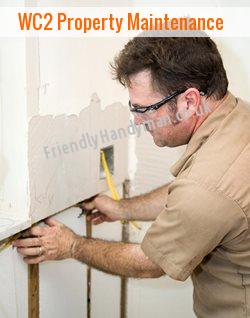 General Jobs
Decorating
Carpentry
Refurbishments WC2
Electrical
Plumbing
Your reliable small jobs specialists
We do all kinds of jobs. You name it and we can handle it all for you. No matter what job you require from us, we can professionally get it done just for you. In no time, all your domestic problems will be solved effectively.
It is only with Leicester Square's best that you can experience high quality handyman services that will totally satisfy all your needs. You need not to spend much. At a very affordable rate, you can have the very service that you need no matter how simple or complicated the task could be.
If you have no one to help you fix your problems, we are just a phone call away. Our handymen are always available round the clock offering a wide range of services that you can choose from. With us, you will never have to worry anymore.
Leicester Square Jack of all trades - Call 020-3322-6025.
Friendly Handyman East Central London, Reliable Handyman Friendly Handyman in The Wrythe renovation experts TW10 Reliable Handyman in Brompton Road domestic repairs in N1 Local Handyman.
We are founded in the belief that customer satisfaction is the number one in our list. We always want to give the best service to our customers leaving them no reason to regret in choosing us to do the job for them.
At Friendly Handyman, we can always guarantee your safety and satisfaction. Call us at 020-3322-6025 for a fully licensed and insured handyman to work for you.
We are a group of experts specialising in all types of repairs, maintenance and installation. Our handyman is the best that you can have to take care of your problems no matter how simple or complex it could be.
Time is highly valued by our handymen. That is the very reason why we always promptly respond to all your needs. We know very well that keeping things timely is the key to your satisfaction.
Trust only the company that is trusted by many. Fill out the form or call us at 020-3322-6025. Our handyman services will never let you down.