Giving you a complete service on all your needs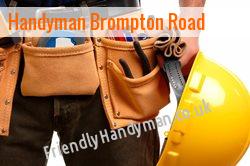 We are Brompton Road's first choice when it comes to handyman services. Every job that you would require can be excellently handled by our multi-skilled handyman. That is why if you wish to make things done perfectly well, choose our team at Friendly Handyman.
Choosing the best for your convenience and satisfaction?
You do not have to hire individual specialists just to help you on your leaking faucets, defective wiring or broken tables. With us everything can be done by one single man. Our handyman SW3 is versatile to handle all types of job you may require. For Brompton Road, we are the number one team of professionals.
Reasons for being on top:
Prompt response at all times
24/7 availability
Very professional
Satisfaction guaranteed
Fine craftsmanship
Reasonable rates
Discuss your requirements with our handyman by simply calling us at 020-3322-6025. With us, you can save both time and money all the time.
Ensuring you get the best out of your money
We are a fully licensed and insured company offering handyman services to commercial entities also. With our vast knowledge and skills, anything under the sun is done professionally at all times.
As a trusted company, we have always consistently provided our customers with quality services at a very reasonable price. That is why through the years, we have always been the number one company in their hearts.
Our fine customer service has always been the number one consideration that our people have in choosing us to be their company. We never disappoint our clients. We have always been the best team to serve every household and commercial entity.
What our handyman can do for you: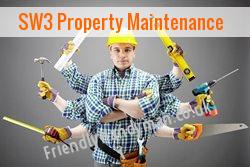 General Jobs
Decorating
Carpentry
Refurbishments SW3
Electrical
Plumbing
Giving full effort for your satisfaction
When you need an instant help with your plumbing and electrical jobs at home, you do not need to call a plumber and an electrician separately. You can have it all done by a handyman. With our professional, you do not have to spend much.
Taking pride of the workmanship that ensures every job is done right the first time, we have become Brompton Road's first choice in all types of handyman services. From small retail stores to restaurants, we are just the perfect team of professionals that business owners could surely rely on.
We are the perfect team you can have to help you on all your needs. Our handyman can help you on basic carpentry, simple plumbing and electrical works as well as decorative painting and gardening. No matter what you need, we can always give you the best service.
Brompton Road Handyman Services - Call 020-3322-6025.
Handymen Engineers North London, Jack of all trades Property Maintenance Becontree Heath odd-job man Bedford Park W12 W1 Property Maintenance Vauxhall DIY expert Gilwell Park E4 Handymen Engineers Friendly Handyman in SW, SE Local Handyman in Plumstead Handyman Services Maida Hill minor renovations East India Dock Road E14 W1M Jack of all trades Property Maintenance Abbey Road NW8 Alexandra Park DIY expert HA2 renovation experts SE5 Property Maintenance.
We can do anything under the heat of the sun. Our handyman can take care of anything that you wish them to do. That is why all your worries will be gone when you get to work with our professionals.
For a highly skilled and knowledgeable team of handymen, contact us today at 020-3322-6025. Excellence is always given with high regard in every job done.
Need things to be done instantly at a very low price? Our handyman is the perfect solution to your needs. With their adequate skills and knowledge, they can help you get things done for your convenience.
If you have a different and unusual task that needs to be done, we can take care of it for you. We do personalised services for your convenience. Our customer's satisfaction always comes first.
To book for our excellent services, call our professional handyman at 020-3322-6025 or send us an email. All types of small scale jobs are carried out at the highest possible standards.