The best choice to have for all your needs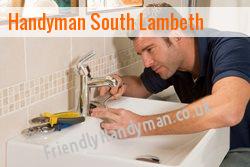 Friendly Handyman is South Lambeth's favourite. All our handyman are very much reliable on all types of work that need to be done like, carpentry, painting, plumbing, some electrical jobs and gardening. The customers are always satisfied with us.
Who says you can't have everything in just one call?
If there is something that needs to be fixed, we are just the very team you can call. You can definitely rely on us because we always do things the right way. Making the customers our first priority, we have truly become South Lambeth's most favourite handyman company SW8. You can never go wrong with us.
Why we have a growing base of clients?
Wide range of services to offer
No delays
Fully licensed and insured
Satisfaction is always guaranteed
Competitively priced
Highly skilled and knowledgeable handymen
We could be the best choice to have when it comes to small scale jobs. Contact us at 020-3322-6025 and we can guarantee our works 100%.
Professionally satisfying you all year round
We are always at your service to render quality solutions for all your office errands. Time is very precious to you which the very reason why we always promptly respond to your needs and do things unobtrusively in order not to hurdle your transactions.
You may not have enough time to do the chores all by yourself. That is why we are here to give you the exact service that you need for a very affordable price. With our skilled handyman, you will never have to worry about anything else anymore.
We are always sincere in doing our work. Our handymen are very honest and reliable. They will never give you worries because everything is under their control. What is left for you to do is enjoy the very results that we provide you.
Doing decorative jobs for your satisfaction: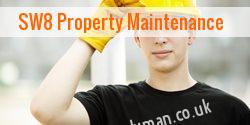 Woodwork painting
Painting and tiling
Plastering walls and ceilings SW8
Filling cracks and holes
Re-sealing
Repairing old grout
Your reliable small jobs specialists
You may have a hard time dealing with your household problems. That is why we are here offering a wide range of services to make everything easy for you. We will do whatever it takes just to give you the best service there is.
We are a professional handyman company offering the widest range of services in South Lambeth. Our team has a wealth of experience in dealing with all kinds of services required. With consistent quality work that is always done right the first time, you would surely have great satisfaction whenever you get to work with us.
For your emergencies at home, there is no better professional to call but our highly skilled and knowledgeable handyman. Whether you require a plumbing or electrical job to be done, they know exactly what to do just to fix the very problem that you have.
South Lambeth Handyman - Call 020-3322-6025.
Jack of all trades London, Friendly Handyman in HA6 Handyman in IG3 renovation experts Hyde Park Handyman Services N7 odd-job man Local Handyman in Euston.
We always do our best to give our clients convenience and satisfaction. Every problem you may have will be resolved in no time giving you an immediate relief. You do not have to worry about anything else anymore.
If you are looking for a company offering services at a very affordable price, you have just come to the right place. Contact us at 020-3322-6025 for a quick response from our team.
We are the number one handyman company offering services that takes away the problems of all our customers. Even in just a short notice, we can be there in no time to provide the best service that guarantees satisfaction.
Nothing is more important to us than satisfying you completely. That is why we customise our services just to fit to your needs. With a very reasonable price, you can have the service that you need.
We are always available to hear and answer your queries and concerns. Do not hesitate to give us call at 020-3322-6025 or fill in the form for more details about our services.