Doing almost anything for you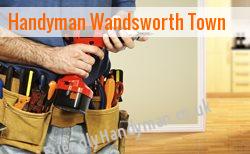 For quick and efficient services that are truly unmatched, have our team of handymen at Friendly Handyman. You will surely have the best service that could guarantee your complete satisfaction and a total peace of mind.
Truly competent to take care of your needs
When you think of home repairs SW18 and other residential services, we are just the right team to call. We do all types of job that you would require us to do, may it be from simple patching to cleaning the whole household. With our team, you will never have to look much further in Wandsworth Town.
What others say about us:
Excellent customer service
Utmost care on all types of work
Fast and organised in every task
Always on time
Services that are competitively priced
Keeps you on track on all our services
Without compromising the quality, we can give you the best service only at a very low price. Contact us at 020-3322-6025 for more details about our services.
Providing everything for your convenience
Causing you delays and troubles is never our practice. Our handymen are very professional. They will quickly respond to your call and start immediately to get things done in no time.
Accomplishing your requirements has always been our mission. At a very affordable price, we can give you the best service that would surely satisfy all your needs. With us, you don't need to look much further.
When you need someone you can trust with your errands, our handyman is the very person that you should hire. In no time, all your problems will be solved. We will not cause you any delay but instead be quick and fast in responding to all your needs.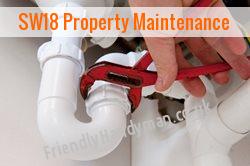 Plumbing services we can specifically cater for you:
Repairing leaks on taps and pipes
Clearing internal waste pipes
Fixing toilet cisterns SW18
Washing machine and dishwasher installation
Replacing radiators
Garden taps installation
Giving full effort for your satisfaction
Whether you require a simple or a complicated job, our handyman can take care of it just for you. At home, when you have no one to help you, we are just the right team to call. You can let us do anything under the heat of the sun.
It is only with Wandsworth Town's best that you can experience high quality handyman services that will totally satisfy all your needs. You need not to spend much. At a very affordable rate, you can have the very service that you need no matter how simple or complicated the task could be.
If you are worrying too much about your household errands that need to be done right away, we can help you with that. Our handyman can professionally fix your problems and help you with all types of errands at a very affordable price.
Wandsworth Town Jack of all trades - Call 020-3322-6025.
Handyman East London, DIY expert IG3 Property Maintenance SW18 Jack of all trades Reliable Handyman in SE26 Friendly Handyman in RM10 West Dulwich SE21 Friendly Handyman Friendly Handyman in Bromley Common Property Maintenance E14 minor renovations in SE, SE1... Local Handyman Southgate Handymen Engineers HA6 Handymen Engineers Shepherds Bush W12 man of all work renovation experts Jack of all trades in Maida Hill man of all work Lewisham SE13 Friendly Handyman Property Maintenance NW1 Anerley SE20 Friendly Handyman.
We can do anything under the heat of the sun. Our handyman can take care of anything that you wish them to do. That is why all your worries will be gone when you get to work with our professionals.
Every job done at Friendly Handyman is always guaranteed 100%. So if you want to have your errands done excellently, give us a call at 020-3322-6025.
In just a short notice, our handymen can give you an assurance that they help fix your problem effectively. They have all the experience to guarantee that all their jobs will be done at the highest possible standards.
With us you can have a different kind of experience that you cannot have with others. Even if you require a difficult job, it is our goal to satisfy you and provide convenience to everybody.
Let us help you live more comfortable than ever. We can help you fix your problems. Call us anytime at 020-3322-6025 or send us an email. Our handyman will always be there for your convenience.