Your complete solution for your home and office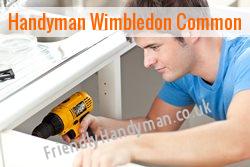 If you are looking for someone to help you deal with simple jobs at home, our handyman at Friendly Handyman could then be the best choice for you. Our skills and knowledge are unparalleled giving you the satisfaction that you need.
Choosing the best for your convenience and satisfaction?
If you are looking for a carpenter to fix your broken chairs or searching for a good plumber to repair the leaks, then look no further. Our handyman SW15 can take care all of it. Providing the widest range of domestic services in Wimbledon Common, you would surely experience total satisfaction without having to spend much.
What people like about us:
Services that are competitively priced
Utmost care on all types of work
Excellent customer service
Always on time
Keeps you on track on all our services
Fast and organised in every task
Our handyman service is undeniably your only resort to get things done right away. Call us at 020-3322-6025 for a quick response on your errands.
Providing everything for your convenience
Arranging tasks on a regular basis works well for most of our commercial customers. They can have everything ensured at your very convenience. Services are customised to suit all your needs.
Fixing leaks and repairing your broken table would never be easy. That is why we are here to help you deal with your problems at your convenience. Our handymen are very much reliable to do all the things that are needed to be done at the highest standard.
We value your time so much. That is why we make sure that we do not cause you any delay by starting on time and finishing it on time as well. Everything is done quickly without compromising its quality for your satisfaction.
Quick services on your odd jobs: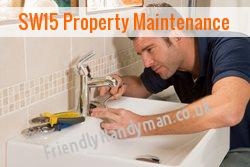 Flat-Packs Assembly
Display Boards and signs Fitting
Bath or Shower Screen Fitting
Assembling Trampoline SW15
Draught Proofing
Door Replacement
The very service you would want to have
You may be too busy to handle domestic jobs by yourself. Thus, we are here to offer you convenience at a very affordable rate. We can help you get things done with a minimum fuss instantly. You do not have to look for somebody else.
Taking pride of the workmanship that ensures every job is done right the first time, we have become Wimbledon Common's first choice in all types of handyman services. From small retail stores to restaurants, we are just the perfect team of professionals that business owners could surely rely on.
If we are talking about all around expertise, then no one would surely beat our handyman's professional capabilities. They can do all types of jobs that you wish them accomplish. With our handyman, all your worries would surely disappear in no time.
Wimbledon Common Local Handyman - Call 020-3322-6025.
man of all work North West London, Handyman Copse Hill SW20 Property Maintenance in Clapham Common Handyman Queens Road SW8 Handyman Services minor renovations in East London Friendly Handyman in N17 Friendly Handyman Brondesbury Handymen Engineers DIY expert W6 Edgware Road W2 Cheam SM3 Handyman DA1 Local Handyman domestic repairs West Drayton UB7 N1 DIY expert odd-job man Cottenham Park SW20 Upper Walthamstow Jack of all trades.
All your concerns will be taken care of as soon as possible. Even if it takes too much work, we will professionally deal with it for your complete satisfaction. We are the very persons you can rely on at all times.
Have your requirements be assessed by our handyman. Call us at 020-3322-6025 and know the exact service that you need for your specific requirements.
Need someone to fix your problem? Our handyman can help you with that. With skills, experience and complete set of tools, you will surely have the complete satisfaction that you always wanted.
We always give special attention to every job that we do. As a result, we constantly satisfy our clients. Our workmanship guarantees the quality and excellence of every work undertaken.
Save time and money with our handyman services. Contact us at 020-3322-6025 or send us an email today. You will always have the best service with our team.