Small job specialists you can trust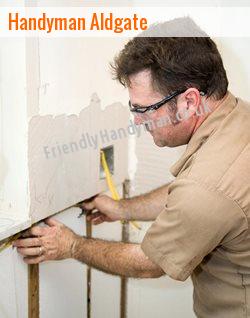 Friendly Handyman is an expert when it comes to giving the customer a total peace of mind. With skills and knowledge in all types of small scale jobs, you will surely have the best experience with our team.
First rated services for your total satisfaction
Whatever chore you may require us to do, just name it and we will take care of it. Being the most trusted handyman company in Aldgate, we endeavour to be consistent with the quality of work that we provide to all our customers. Gaining the trust and confidence of our customers is rewarding enough for us.
Few advantages you could have with us:
Caters emergencies
Fully insured
Licensed and accredited
Guaranteed services
Fully dedicated professionals
Honest pricing
To keep things in order, have it professionally fixed by our reliable handyman. Call us at 020-3322-6025 today for a service like no other.
Your one-stop shop for small scale jobs
We are the very team who can help you maintain an efficient workplace for you and your staffs. Your business transactions can run smoothly while we do the small scale jobs for you. Prompt response is always guaranteed by our handymen.
We are the only company who can guarantee quality workmanship and a competitive price at the same time. With a large base of clients, we can prove that we have always satisfied our clients in all our undertakings.
For all your residential and commercial needs, we have the team that you can always rely on and trust. We will promptly respond to all your needs and never keep you waiting. We value your time just the way you value yours.
Decorating jobs we offer: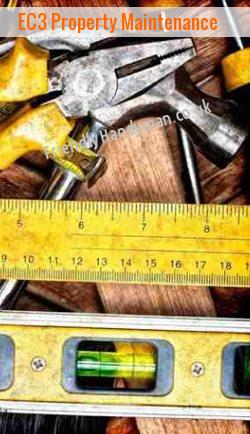 Painting and tiling
Filling cracks and holes
Repairing old grout
Plastering walls and ceilings EC3
Re-sealing
Woodwork painting
Your reliable small jobs specialists
We are also the very team you can trust when it comes to quality home improvement jobs. Our handyman can help you get the results that you wish at a very affordable price. You can never find a better company other than us.
We are Aldgate's number one handyman company offering commercial maintenance and repair services to retail stores, office buildings and other business establishments. We pride ourselves for doing the job right even for the first time. With competitive rates, surely you would have the best value for your money.
Having full experience in effectively carrying out simple household and commercial jobs, our handyman is sure to give you the satisfaction that you truly deserve. With the right skills and knowledge, you will never regret having our team to work for you.
Aldgate Handyman - Call 020-3322-6025.
man of all work South London, New Southgate N11 Handyman West London Handyman Rainham Friendly Handyman Friendly Handyman Holborn odd-job man SW, SE Friendly Handyman Handyman Services East Ham E6 Friendly Handyman SW1 minor renovations Purley CR8 Handymen Engineers in EN1 Property Maintenance Drayton Park N5 Peckham renovation experts Local Handyman man of all work in EC2 Jack of all trades N1 Grove Park W4 domestic repairs Broad Street EC2 domestic repairs minor renovations Northwood.
Our ideals in keeping you happy and always satisfied are sincere and genuine. We always make sure that we would be able to give you the best service. All your jobs will be done excellently at all times.
For a highly skilled and knowledgeable team of handymen, contact us today at 020-3322-6025. Excellence is always given with high regard in every job done.
We are the very company who has the heart to understand the needs of the people and gives a full dedication for our customers' full satisfaction. No matter what you need, our handyman can take care of it just for you.
If you have a different and unusual task that needs to be done, we can take care of it for you. We do personalised services for your convenience. Our customer's satisfaction always comes first.
If you want to have a quality service that does not cost much, discuss your requirements with our handyman by simply calling us at 020-3322-6025 or filling the form. Quality service can always go hand in hand with affordability.