Love doing the jobs you hate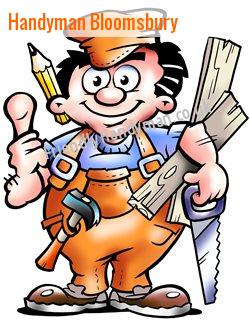 Why prolong your agony when you can have the best handyman to help you? Friendly Handyman is an established company offering quality services to all your needs. From small to medium sized jobs, everything is being taken cared of excellently.
First rated services for your total satisfaction
We understand very well how handling repairs and maintenance could cause you much trouble most especially if you are constrained with time. That is why we are here to help. Offering the widest range of services for all your domestic needs, you do not have to hire multiple specialists just to get things done. In Bloomsbury, we are the most flexible team you can rely on.
Our advantages over other companies:
Fast and organised in every task
Always on time
Keeps you on track on our services
Utmost care on all types of work
Excellent customer service
Services that are competitively priced
For a same day service, call us at 020-3322-6025. Our handyman will be at your place to do the jobs you require in no time.
The number one handyman to help you
Our professionals are always happy to be of service to you. They will never cause you any delay or any disruption so as to prevent you from having a productive day at work. We can help you on your maintenance and repairs to ensure a safe workplace for everyone.
For the best service that is sure to give you the satisfaction that you deserve, have your errands done by our professional handyman. With us, all your problems will be gone making life much easier for you and your family.
Full commitment is always given by our professional handymen to all their undertakings. They always make sure that they would be able to satisfy you completely by delivering you the exact service that you always wanted.
Services we excellently provide: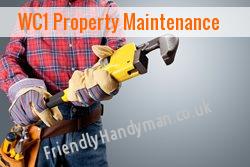 Odd jobs WC1
PAT Testing
Plumbing
Electrical
Decorating
Refurbishment
Trusting the professionals that are trusted by many
You may be too busy to handle domestic jobs by yourself. Thus, we are here to offer you convenience at a very affordable rate. We can help you get things done with a minimum fuss instantly. You do not have to look for somebody else.
We are Bloomsbury's number one handyman company offering commercial maintenance and repair services to retail stores, office buildings and other business establishments. We pride ourselves for doing the job right even for the first time. With competitive rates, surely you would have the best value for your money.
We are the perfect team you can have to help you on all your needs. Our handyman can help you on basic carpentry, simple plumbing and electrical works as well as decorative painting and gardening. No matter what you need, we can always give you the best service.
Bloomsbury renovation experts - Call 020-3322-6025.
Jack of all trades South West London, Handymen Engineers W7 Jack of all trades HA6 minor renovations N4 Jack of all trades SW14 DIY expert DIY expert Leaves Green Friendly Handyman Mortlake man of all work in Knightsbridge Bank Friendly Handyman Millwall E14 Friendly Handyman Kensal Rise NW10 Clerkenwell Property Maintenance Charing Cross WC2 Jack of all trades.
We never leave our job unfinished. We always make sure that when we are done, there will be no more lags. From start to finish, we can guarantee that you will always be satisfied with our workmanship.
We can guarantee you with a complete satisfaction through our excellent workmanship. Call us at 020-3322-6025 right away to get things done right this instance.
Always consider it done when you get to work with our handymen. Their all-around expertise in doing minor jobs for you is certainly one of the best. You will never have to look much further with our professional team of handymen.
You can never find a better team who is fully dedicated in carrying out all types of work. Our handyman is sincere in keeping you satisfied at all times.
Get in touch with our handyman to help you fix your leaking faucets or broken chairs. Fill in the form or simply call us at 020-3322-6025 to have the best service that guarantees your satisfaction.