Small job specialists you can trust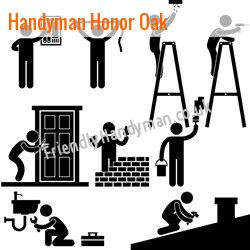 If you want things to get done as quickly as possible, then perhaps you could consider our handyman services at Friendly Handyman. With us, you will surely have the best service there is giving you the very convenience that you just need.
Guaranteeing your safety and full satisfaction as well
We understand very well how handling repairs and maintenance could cause you much trouble most especially if you are constrained with time. That is why we are here to help. Offering the widest range of services for all your domestic needs, you do not have to hire multiple specialists just to get things done. In Honor Oak, we are the most flexible team you can rely on.
Few advantages you could have with us:
Caters emergencies
Fully insured
Licensed and accredited
Guaranteed services
Fully dedicated professionals
Honest pricing
Rendering 24/7 services is our forte. Call us at 020-3322-6025 anytime for a reliable service that is sure to give you the satisfaction that you need.
Dependable individuals who are truly professional
We are a fully licensed and insured company offering handyman services to commercial entities also. With our vast knowledge and skills, anything under the sun is done professionally at all times.
You may not have enough time to do the chores all by yourself. That is why we are here to give you the exact service that you need for a very affordable price. With our skilled handyman, you will never have to worry about anything else anymore.
We value your time so much. That is why we make sure that we do not cause you any delay by starting on time and finishing it on time as well. Everything is done quickly without compromising its quality for your satisfaction.
Services we excellently provide: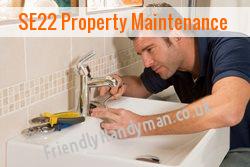 Odd jobs SE22
PAT Testing
Plumbing
Electrical
Decorating
Refurbishment
Your 24/7 dependable craftsmen
When you need an instant help with your plumbing and electrical jobs at home, you do not need to call a plumber and an electrician separately. You can have it all done by a handyman. With our professional, you do not have to spend much.
From simple dripping of tap to dangerous wires that run across the floor, we are the just right team you can call to help. We do our job unobtrusively so as not to disrupt your employees in their day to day transactions. With us, Honor Oak will no longer have problems dealing with all types of minor damages in their business establishments.
If you have no one to help you fix your problems, we are just a phone call away. Our handymen are always available round the clock offering a wide range of services that you can choose from. With us, you will never have to worry anymore.
Honor Oak Reliable Handyman - Call 020-3322-6025.
Handyman London, domestic repairs Hendon NW4 Sydenham Hill SE21 man of all work Eastcote Property Maintenance W5 Friendly Handyman odd-job man SE17 Handyman Battersea Property Maintenance in Shirley minor renovations Oxford Street Local Handyman in NW9.
All your concerns will be taken care of as soon as possible. Even if it takes too much work, we will professionally deal with it for your complete satisfaction. We are the very persons you can rely on at all times.
At Friendly Handyman, we can always guarantee your safety and satisfaction. Call us at 020-3322-6025 for a fully licensed and insured handyman to work for you.
We are a leading handyman company offering quality services and a very comfortable living. With our handyman's skills and competence, you can never go wrong with your choice of professional team.
Quick and fast service is always guaranteed by our handyman. Our team can solve all the problems you have leaving you totally satisfied with a peace of mind.
Save time and money with our handyman services. Contact us at 020-3322-6025 or send us an email today. You will always have the best service with our team.