Highly recognised for all types of work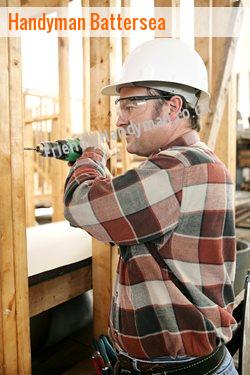 You can always have both affordability and quality all at the same time with Friendly Handyman. Our handyman services are competitively priced to suit your budget. No matter what service you may need, we can all take care of it with high quality.
Fully dedicated to take care of everything for you
We pride ourselves for the excellent services that we provide SW11, Battersea for several years already. For responding promptly from the first time of call, we have gained the trust and confidence of our customers. Being fully equipped and skilled, we are confident enough that we would be able to satisfy our customers completely from start to finish.
Reasons for being on top:
Prompt response at all times
24/7 availability
Very professional
Satisfaction guaranteed
Fine craftsmanship
Reasonable rates
Do not hesitate to call us at 020-3322-6025 to inquire about our handyman services. With our license and insurance, you can always be safe with us.
Reaching out far to be at your service
We can help you let your business run smoothly while we do the jobs for you. With our professional handymen, solutions will be given at the best time possible without any disruption.
Our experience as a company has made us very much adept in dealing with all types of small scale jobs. With a multi-skilled handyman, who would ever have to look much further? Everything you need is perfectly handled by our professionals.
As much as possible, we leave no room for mistakes. But if there are instances wherein you are not satisfied with our job, we can always redo it just for you. We will show you that we are indeed doing everything just to make you fully satisfied.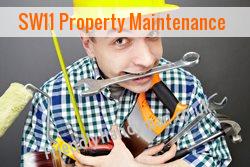 Our excellent services:
Refurbishment
Electrical
Plumbing
Odd jobs SW11
Decorating
PAT Testing
Your reliable small jobs specialists
You may have a hard time dealing with your household problems. That is why we are here offering a wide range of services to make everything easy for you. We will do whatever it takes just to give you the best service there is.
We are Battersea's number one handyman company offering commercial maintenance and repair services to retail stores, office buildings and other business establishments. We pride ourselves for doing the job right even for the first time. With competitive rates, surely you would have the best value for your money.
Our handymen are not just available for simple installation and other minor residential and commercial jobs. They are also very adept in doing repairs and maintenance. For your comfort and convenience, we will always make ourselves available 24/7.
Battersea Handyman Services - Call 020-3322-6025.
renovation experts North West London, DIY expert Northfields W13 Local Handyman in HA6 Friendly Handyman EN2 man of all work Kennington SE11 renovation experts E14 Hampstead Heath NW3 man of all work South Lambeth.
No job is too simple or too complex for us to handle. All your requirements will be dealt with professionally. You can always count on us no matter what type of work that you may require from us.
If you are looking for a company offering services at a very affordable price, you have just come to the right place. Contact us at 020-3322-6025 for a quick response from our team.
We are widely known for our fully dedicated and reliable handyman. All your requirements will be done excellently giving you a complete peace of mind and a total satisfaction at all times. We are a company who truly cared for their customers.
We can guarantee you that when you work with us, you will never experience the disappointments and regrets that you had with your previous handyman. We are all professionals and would always give you the best service. You can always count on us.
Get in touch with our handyman by simply calling us at 020-3322-6025 or sending us an email. We can help you fix and repair anything at your place.