Highly recognised for all types of work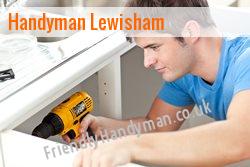 For a 24/7 handyman service, Friendly Handyman is just the right professional to hire. We always make ourselves available for you in order to help you with simple jobs that need to be done with quality skills.
The best way out to all your domestic and commercial problems
From simple household chores to major improvements, our SE13 handyman is the right person that you can call. Doing all types of job for everyone's convenience and satisfaction, Lewisham would no longer have a hard time dealing with these certain chores.
What people like about us:
Services that are competitively priced
Utmost care on all types of work
Excellent customer service
Always on time
Keeps you on track on all our services
Fast and organised in every task
Let us do the jobs that you can't do. Contact us today at 020-3322-6025 for more inquiries about our wide range of services.
Dependable individuals who are truly professional
We are a fully licensed and insured company offering handyman services to commercial entities also. With our vast knowledge and skills, anything under the sun is done professionally at all times.
Fixing leaks and repairing your broken table would never be easy. That is why we are here to help you deal with your problems at your convenience. Our handymen are very much reliable to do all the things that are needed to be done at the highest standard.
Full commitment is always given by our professional handymen to all their undertakings. They always make sure that they would be able to satisfy you completely by delivering you the exact service that you always wanted.
Making your lives comfortable with the following big jobs we offer: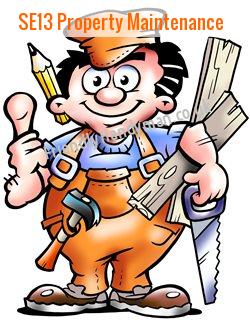 Floor Tiling
Wall Tiling
Built in Shelving
Kitchen Fitting SE13
Laminate Flooring
Bi-Folding doors
Leading the way for a much easier living
You can entrust your entire household to our handyman. Everything that needs to be done will be taken care of by our professionals. All their services are truly efficient and give you the best value for your money.
Lewisham will no longer have to worry about dripping faucets and broken chairs because with us every single problem will be fixed in no time. From small to medium sized business establishments, we are just the perfect team of professionals that you can truly rely on.
If you are worrying too much about your household errands that need to be done right away, we can help you with that. Our handyman can professionally fix your problems and help you with all types of errands at a very affordable price.
Lewisham Handyman - Call 020-3322-6025.
Jack of all trades London, Property Maintenance in Aldwych Friendly Handyman in Earls Court Property Maintenance E14 Friendly Handyman in Hackney Local Handyman in W4 Handyman Services in W12 domestic repairs Gospel Oak NW5 man of all work SE1 minor renovations Jack of all trades in West Kilburn Friendly Handyman Hackney Marshes E5 SE1 Handyman Services Handymen Engineers E4 renovation experts in TW7 DIY expert in N22 renovation experts in Shoreditch Friendly Handyman Stepney E1.
We have a team of skilled and knowledgeable handymen who always give their full dedication in helping every household. Our professionals will be there as quickly as possible to take away all your worries instantly.
For a complete customer satisfaction at your own convenience, get in touch with our professionals by giving us a call at 020-3322-6025. Our handyman will never disappoint you.
For an all-around service provider that offers solutions at a very reasonable price, have our professional handyman work for you. Everything you need to be done is surely under our handyman's control.
Nothing is more important to us than satisfying you completely. That is why we customise our services just to fit to your needs. With a very reasonable price, you can have the service that you need.
To find out more about our services and our team of qualified handyman, feel free to give us a call at 020-3322-6025 or fill out the form. We are always happy to serve you.