Taking great challenges for your satisfaction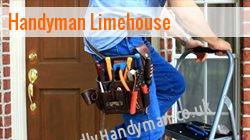 Why prolong your agony when you can have the best handyman to help you? Friendly Handyman is an established company offering quality services to all your needs. From small to medium sized jobs, everything is being taken cared of excellently.
Making your satisfaction as our number one goal
We are Limehouse's most favourite handyman company E14 for several years. By being able to constantly provide excellent workmanship, most of our transactions come from repeat customers. Whatever our customers need, we can have it all covered.
Why entrust everything to us?
We are trusted by many
We have a friendly and accommodating team to help you
We can help you save money
We have a team of highly trained handymen
We can do all-around services efficiently
We are available 24/7
Without compromising the quality, we can give you the best service only at a very low price. Contact us at 020-3322-6025 for more details about our services.
Making things simpler for you all the time
We are always at your service to render quality solutions for all your office errands. Time is very precious to you which the very reason why we always promptly respond to your needs and do things unobtrusively in order not to hurdle your transactions.
When you think you can no longer spare time to fix the damages at your place, our handyman is just right here available to be of any help to you. Anything under the heat of the sun is carried out excellently just for you.
You might have a very disappointing experience with others. But when you get to work with us, you will never experience the same thing again. All our handymen are honest, reliable and indeed straightforward. It is our promise to satisfy you at all times.
What our handyman can do for you: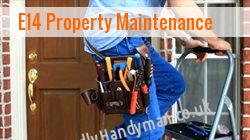 General Jobs
Decorating
Carpentry
Refurbishments E14
Electrical
Plumbing
Giving full effort for your satisfaction
We are also the very team you can trust when it comes to quality home improvement jobs. Our handyman can help you get the results that you wish at a very affordable price. You can never find a better company other than us.
Taking pride of the workmanship that ensures every job is done right the first time, we have become Limehouse's first choice in all types of handyman services. From small retail stores to restaurants, we are just the perfect team of professionals that business owners could surely rely on.
For a quality workmanship that gives you the exact service that you need, only entrust our professional handymen. With us, all the things that need to be done will be taken cared of professionally at the highest quality.
Limehouse - Call 020-3322-6025.
Jack of all trades South London, Streatham Hill SW2 odd-job man SW1 Local Handyman Property Maintenance in SW19 NW10 Handyman Services Wandsworth Jack of all trades renovation experts in SE18 Handyman Services Regents Park W5 Local Handyman Property Maintenance Grove Park SW12 Property Maintenance Gilwell Park E4 Marylebone NW1 Handyman Services Feltham Reliable Handyman Shepherds Bush Handyman Reliable Handyman East Dulwich.
For you, we will resolve all your domestic and commercial problems as quickly as possible. We do not want to keep you waiting all day. With us, you will always have the convenience that you deserve.
Every job done at Friendly Handyman is always guaranteed 100%. So if you want to have your errands done excellently, give us a call at 020-3322-6025.
In just a short notice, our handymen can give you an assurance that they help fix your problem effectively. They have all the experience to guarantee that all their jobs will be done at the highest possible standards.
Quick and fast service is always guaranteed by our handyman. Our team can solve all the problems you have leaving you totally satisfied with a peace of mind.
If you want to have a quality service that does not cost much, discuss your requirements with our handyman by simply calling us at 020-3322-6025 or filling the form. Quality service can always go hand in hand with affordability.