Your complete solution for your home and office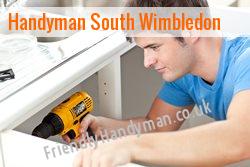 Friendly Handyman's handymen is the very team that you can always rely on. Our experience can guarantee you that no matter what type of service that you may require, we can excellently carry it out for you.
First rated services for your total satisfaction
Our team is the best group of professionals that you can rely on when it comes to home repairs and domestic maintenance needs SW19. Whether you require interior or exterior renovations, South Wimbledon's best is the very company that you can truly rely on.
Why trust your chores with us?
We have a team of highly trained handymen
We are available 24/7
We have a friendly and accommodating team to help you
We can help you save money
We can do all-around services efficiently
We are trusted by many
For the best handyman that can get things done right away, call us at 020-3322-6025. You will always be satisfied with our excellent workmanship.
Tailoring services that suit well for you
Maintenance services are usually the ones that most offices need. That is why we do arrange this kind of tasks for you on a regular basis so as to give you more convenience and comfort. Every service we provide is customised to fit your needs.
If you get to work with the right team of professionals, you will surely have the best experience in your entire life. Our handyman can give you a great experience that will surely guarantee your satisfaction at all times.
Full commitment is always given by our professional handymen to all their undertakings. They always make sure that they would be able to satisfy you completely by delivering you the exact service that you always wanted.
Doing the following electrical works for you: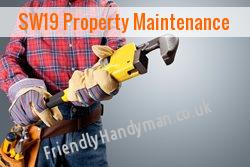 Light fittings
Light bulbs replacement SW19
Extractor fans replacement
Replacement of sockets, switches and transformers
Fault finding
Portable appliance testing
Widely known for excellent works
Most problems arise at home. That is why we are here to extend a helping hand on all your household chores that needs to be done with excellent skills and knowledge. We can help you on your routine repairs and maintenance tasks professionally.
The quality work that we provide South Wimbledon has always been consistent making every job done right the first time. As a professional handyman company, we ensure that we would be able to deliver the widest range of services. This is to help our customers save time in looking for specialists to deal with their repairs and maintenance needs.
Specialising in repairs and maintenance, our handyman is the best professional you can call at times that you need a helping hand. We understand that doing repairs and maintenance is never easy. That is why we are here to give you the very assistance that you just need.
South Wimbledon DIY expert - Call 020-3322-6025.
Property Maintenance West Central London, Reliable Handyman Baker Street Jack of all trades Friendly Handyman Jack of all trades Brompton Handyman Services W1 Thamesmead Handyman Services Handyman Services Elephant & Castle Reliable Handyman Tower Hamlets Reliable Handyman N7 Friendly Handyman Hounslow Central Handyman Services E9 Jack of all trades E14 renovation experts Honor Oak SE22 Handyman in Blackheath Park.
Whatever you would want us to do, we can always carry it out with quality. You do not need to find other service providers to help you with your needs. With us, all your problems will be fixed in no time.
Let us know how we can be of any help to you by simply calling us at 020-3322-6025. Our handymen are always available 24/7 to render excellent services to your end.
We always make sure that in every task that we do, excellence and professionalism is always present. With our experience and skills, we can always guarantee you with a complete satisfaction and a total peace of mind.
Customer satisfaction is our topmost priority. If you require us to do a different kind of task, we can customise it just for you. We always want to make things convenient for you.
For a residential or commercial errand that needs to be done instantly, call us right away at 020-3322-6025 or send us an email. Services at its highest standard are always ensured.