Giving you a complete service on all your needs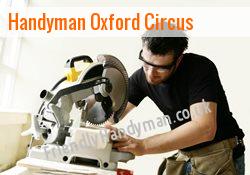 Guaranteeing your total satisfaction through our quality results has always been our topmost priority at Friendly Handyman. We can promise you that our handyman will never give you the same problem that you had with others.
Your round the clock domestic and commercial operatives
You do not have to hire individual specialists just to help you on your leaking faucets, defective wiring or broken tables. With us everything can be done by one single man. Our handyman W1 is versatile to handle all types of job you may require. For Oxford Circus, we are the number one team of professionals.
Few advantages you could have with us:
Caters emergencies
Fully insured
Licensed and accredited
Guaranteed services
Fully dedicated professionals
Honest pricing
For a quality service that will never disappoint you, call us at 020-3322-6025. Our handyman will always give you the best service there is.
Looking for the right man to help you?
All types of jobs are professionally carried out by our handymen. Whether you require a simple job or a difficult one, they can always take care of it for you. It is our promise not to cause you any delay.
Choosing us will always be the best decision that you have ever made. You can never go wrong with our handyman who are fully licensed and insured in doing all types of jobs whether it is of residential concern or that of the commercials.
As much as possible, we leave no room for mistakes. But if there are instances wherein you are not satisfied with our job, we can always redo it just for you. We will show you that we are indeed doing everything just to make you fully satisfied.
Decorating jobs we offer: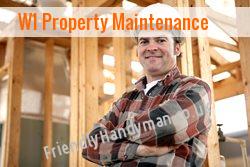 Painting and tiling
Filling cracks and holes
Repairing old grout
Plastering walls and ceilings W1
Re-sealing
Woodwork painting
Your 24/7 dependable craftsmen
You can entrust your entire household to our handyman. Everything that needs to be done will be taken care of by our professionals. All their services are truly efficient and give you the best value for your money.
Make your stores and establishments aesthetically good to look at. Impress your customers through our excellent quality services. We are here to help Oxford Circus experience a different kind of service that is truly worth the money that they spend for.
If you have no one to help you fix your problems, we are just a phone call away. Our handymen are always available round the clock offering a wide range of services that you can choose from. With us, you will never have to worry anymore.
Oxford Circus Jack of all trades - Call 020-3322-6025.
minor renovations South West London, in HA8 Property Maintenance NW3 Russell Square WC1 domestic repairs domestic repairs Lewisham renovation experts Property Maintenance in Pinner Green Friendly Handyman E5 Friendly Handyman in Totteridge Whetstone in Cheyne Walk Friendly Handyman in Blackhorse Road NW2 Friendly Handyman Malden Rushett Reliable Handyman Shadwell Reliable Handyman.
We can customise our services according to the requirements of our clients. Everything we do is entirely made for the purpose of making things easy for our customers as well as satisfying them completely.
If you are looking for a company offering services at a very affordable price, you have just come to the right place. Contact us at 020-3322-6025 for a quick response from our team.
We are a leading handyman company offering quality services and a very comfortable living. With our handyman's skills and competence, you can never go wrong with your choice of professional team.
We can give you a same day service to ensure that your emergencies will be given with a quick solution. Even if it is beyond the usual business hours, we can still offer our services to you. Remember that it is your satisfaction that we are most concerned of.
For a service that offers great value for money, call us at 020-3322-6025 or send us an email. With us, you will never have to spend much just to have the best and reliable service.