Taking great challenges for your satisfaction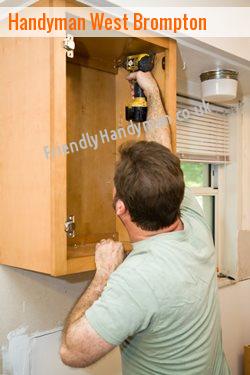 Friendly Handyman's handymen is the very team that you can always rely on. Our experience can guarantee you that no matter what type of service that you may require, we can excellently carry it out for you.
Making your satisfaction as our number one goal
If there is something that needs to be fixed, we are just the very team you can call. You can definitely rely on us because we always do things the right way. Making the customers our first priority, we have truly become West Brompton's most favourite handyman company SW5. You can never go wrong with us.
Reasons for being on top:
Prompt response at all times
24/7 availability
Very professional
Satisfaction guaranteed
Fine craftsmanship
Reasonable rates
Do not hesitate to call us at 020-3322-6025 to inquire about our handyman services. With our license and insurance, you can always be safe with us.
Reaching out far to be at your service
Our handymen are truly reliable and professional. They can undergo all types of tasks that you may require. Ranging from small scale jobs to the medium ones, we are just the right team to call which will never cause you any delay.
Accomplishing your requirements has always been our mission. At a very affordable price, we can give you the best service that would surely satisfy all your needs. With us, you don't need to look much further.
It is your satisfaction that keeps us going. Thus in every job that we do, we always ensure that you get the best of what we have to offer. Whatever you require from us, we will handle it excellently for your total satisfaction.
Other big jobs that we can do for you: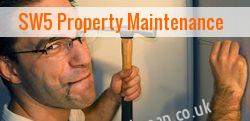 Kitchen Fitting
Laminate Flooring SW5
Floor Tiling
Wall Tiling
Bi-Folding doors
Built in Shelving
Widely known for excellent works
Excellent customer service is always apparent in our every transaction, which is the very reason why we have become the first choice of every household. Professionalism and efficient solutions are always guaranteed by our handymen.
For a more productive business and a better image build up, we are just the perfect handyman team you can trust to help you with your repairs. With our training, skills and expertise, anything that needs to be done will be taken care of professionally. In West Brompton, when you speak of high quality service, we are just the very name that would ring a bell.
If you are worrying too much about your household errands that need to be done right away, we can help you with that. Our handyman can professionally fix your problems and help you with all types of errands at a very affordable price.
West Brompton DIY expert - Call 020-3322-6025.
renovation experts West Central London, Local Handyman in Cromwell Road Friendly Handyman Kingsland N1 Bermondsey Property Maintenance North West London Handyman Old Ford Local Handyman in South Kensington West Harrow Finsbury renovation experts Friendly Handyman renovation experts Chelsea Embankment North Acton renovation experts Handyman in W13.
Emergencies are entertained by our handymen. Of course, we will respond to your call as soon as we have known about your case. We will never keep you waiting because a single minute is already detrimental to your safety.
At Friendly Handyman, we can always guarantee your safety and satisfaction. Call us at 020-3322-6025 for a fully licensed and insured handyman to work for you.
For an affordable service that is truly effective and would definitely work well for you, have your small to medium sized jobs be done by our handyman. Our team can take care of all your needs without letting you spend too much.
We always give special attention to every job that we do. As a result, we constantly satisfy our clients. Our workmanship guarantees the quality and excellence of every work undertaken.
If you want to have a quality service that does not cost much, discuss your requirements with our handyman by simply calling us at 020-3322-6025 or filling the form. Quality service can always go hand in hand with affordability.