Professionally making your lives better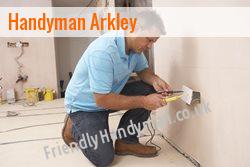 For quick and efficient services that are truly unmatched, have our team of handymen at Friendly Handyman. You will surely have the best service that could guarantee your complete satisfaction and a total peace of mind.
Choosing the best for your convenience and satisfaction?
From simple household chores to major improvements, our EN5 handyman is the right person that you can call. Doing all types of job for everyone's convenience and satisfaction, Arkley would no longer have a hard time dealing with these certain chores.
Why we have a growing base of clients?
Wide range of services to offer
No delays
Fully licensed and insured
Satisfaction is always guaranteed
Competitively priced
Highly skilled and knowledgeable handymen
We are the only ones you can rely on when it comes to quick and effective service. Call us at 020-3322-6025 for the kind of service that you urgently need.
Repairs and maintenance made easy
Maintenance services are usually the ones that most offices need. That is why we do arrange this kind of tasks for you on a regular basis so as to give you more convenience and comfort. Every service we provide is customised to fit your needs.
Choosing us will always be the best decision that you have ever made. You can never go wrong with our handyman who are fully licensed and insured in doing all types of jobs whether it is of residential concern or that of the commercials.
No matter how simple or complicated the job could be, we will make sure that it will be done at the highest possible standards. You can always refer your concerns with our professionals and they will act upon it as soon as possible.
Services we are known for: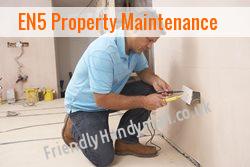 General Home Maintenance EN5
Plumbing
Painting and Wall Treatments
Remodelling of Bathrooms
Fences
Decks
Unmatched handyman expertise
If you have no time to do your household chores all by yourself, then we can help you do for your convenience and satisfaction. We understand that you may have a lot of things to worry which is why we offer you our services to make things easier for you.
From simple dripping of tap to dangerous wires that run across the floor, we are the just right team you can call to help. We do our job unobtrusively so as not to disrupt your employees in their day to day transactions. With us, Arkley will no longer have problems dealing with all types of minor damages in their business establishments.
We are the perfect team you can have to help you on all your needs. Our handyman can help you on basic carpentry, simple plumbing and electrical works as well as decorative painting and gardening. No matter what you need, we can always give you the best service.
Arkley - Call 020-3322-6025.
man of all work London, man of all work in North Harrow in SW3 odd-job man NW1 Property Maintenance SE2 Handymen Engineers Lancaster Gate renovation experts Oval SE11 Local Handyman Camden NW3 Handyman Services renovation experts in Thamesmead Friendly Handyman Hornchurch RM12 odd-job man in Dalston Junction Handyman Services Jack of all trades in W6 Southgate N14 Friendly Handyman.
We can always take away the stress in you. After we have accomplished our work, we will then clean your place to keep it as tidy as possible. We take full responsibility of keeping your place organised after every task.
It is our utmost concern to satisfy every need that our customer has. So for an excellent workmanship that handles the job completely, call us today at 020-3322-6025.
Every work done by our handyman is 100% guaranteed. Being a fully licensed and insured company, we can assure you that all things will be done professionally at your own pace and convenience.
We can give you a same day service to ensure that your emergencies will be given with a quick solution. Even if it is beyond the usual business hours, we can still offer our services to you. Remember that it is your satisfaction that we are most concerned of.
Save time and money with our handyman services. Contact us at 020-3322-6025 or send us an email today. You will always have the best service with our team.