The kind of workmanship that could satisfy you completely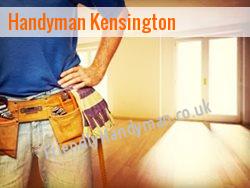 For a 24/7 handyman service, Friendly Handyman is just the right professional to hire. We always make ourselves available for you in order to help you with simple jobs that need to be done with quality skills.
Fully dedicated to take care of everything for you
We pride ourselves for the excellent services that we provide W8, Kensington for several years already. For responding promptly from the first time of call, we have gained the trust and confidence of our customers. Being fully equipped and skilled, we are confident enough that we would be able to satisfy our customers completely from start to finish.
Why let us do the job?
Quick response
Organised workmanship
Reliable services
Friendly staffs
Efficient solutions
Affordable rates
For a quality job on repairs and maintenance, our handyman is the perfect professional to call. Contact us at 020-3322-6025 and get things done instantly.
Tailoring services that suit well for you
Maintenance services are usually the ones that most offices need. That is why we do arrange this kind of tasks for you on a regular basis so as to give you more convenience and comfort. Every service we provide is customised to fit your needs.
You may not have enough time to do the chores all by yourself. That is why we are here to give you the exact service that you need for a very affordable price. With our skilled handyman, you will never have to worry about anything else anymore.
We can take away all the worries from you in no time. This is because we know very well that you value your time very much. Causing you delays in never our practice. In fact all our services are done promptly the moment we receive your call.
We have the skills to do the following but are not limited to: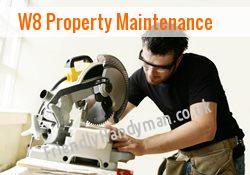 Carpentry
Plumbing
Painting
New Kitchens
Fences and Decks W8
Tile Flooring
Your reliable small jobs specialists
You can entrust your entire household to our handyman. Everything that needs to be done will be taken care of by our professionals. All their services are truly efficient and give you the best value for your money.
Throughout these years, Kensington no longer worries about its commercial repairs and maintenance needs. With us, all that needs to be done will be promptly attended to with an assurance of high quality workmanship. Our skills, experience and complete array of services could say it for us.
We are the perfect team you can have to help you on all your needs. Our handyman can help you on basic carpentry, simple plumbing and electrical works as well as decorative painting and gardening. No matter what you need, we can always give you the best service.
Kensington domestic repairs - Call 020-3322-6025.
odd-job man West London, Jack of all trades in North London Handymen Engineers Morden EC2 domestic repairs Gipsy Hill man of all work W1 Friendly Handyman Lower Holloway Handyman NW10 domestic repairs SE9 minor renovations odd-job man Lee Green SE12 Property Maintenance SW, SW1... Property Maintenance Friendly Handyman SE2 Property Maintenance minor renovations Clapton St Pauls domestic repairs Goodge Street W1 Property Maintenance in E14 Handymen Engineers.
We can do anything under the heat of the sun. Our handyman can take care of anything that you wish them to do. That is why all your worries will be gone when you get to work with our professionals.
If you value your time so much, then let us do the job for your very own convenience. Call at 020-3322-6025 today and know more about what we can exactly do for you.
We are widely known for our fully dedicated and reliable handyman. All your requirements will be done excellently giving you a complete peace of mind and a total satisfaction at all times. We are a company who truly cared for their customers.
It is our goal to keep you happy at all times. If ever you are unsatisfied, we can always redo it. The important thing is we have made you happy and completely satisfied as well.
No one serves you better other than our professional team of handymen. Feel free to give us a call at 020-3322-6025 or send us an email to know more about our services.